Mother of three fished out of Nismes canal
Öhusband confesses to murder, attempts suicide
-- relatives claim that his wife was being unfaithful
By Gary Eleazar and Jenelle Carter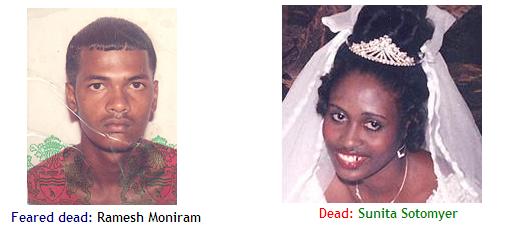 The Canal Number One Polder was last evening thrown into mourning after the body of, 25- year-old Sunita August who was reportedly slain by her husband Ramesh Moniram.
Her body was fished out of a canal at Nismes, West Bank Demerara, after hours of painstaking search by members of the Guyana Police Force.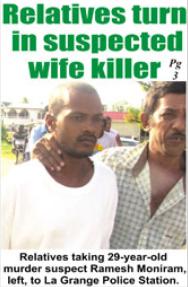 Friday, January 15, 2010

Moniram is also feared dead as it is believed that he ingested poison before fleeing into some bushes aback his parents Lot 52 Unity Back Half Street.
Earlier in the day someone believed to be Moniram contacted the La Grange Police Station informing them that he had just killed his wife and had ingested a poison.
The caller informed the police that the body was dumped at a koker at Nismes but initial searches by the police unearthed only clothing believed to be that of August. It was not until late in the afternoon that her body was discovered.
Her body did not bear any visible mark of violence and it is believed that she was suffocated or was drowned.
Speaking with media operatives, yesterday, Moniramís 52-year-old mother, Hemwattie, known as Aunty Jean, said that her son had been experiencing a tumultuous relationship with the young lady for some time now to the point that she had evicted him and he started living with them.
She stated that her son who did odd jobs including masonry and carpentry, would give the bulk of the money he earns to the woman mainly to support his children that he had with her. She said that as recent as Sunday her son gave the woman some money despite the fact that they were not living together at the time.
This newspaper understands that following Moniramís departure from the home August had developed a relationship with someone else but this did not last long and Moniram had attempted to rekindle the relationship.
Augustís relatives are however adamant this was far from the truth. They said that it was Moniram who was stalking her and that she had even become fearful for her life. Moniram allegedly told neighbours of his plan, yesterday, and left early that morning for Augustís home.
According to Moniramís mother he returned and told them that he had finished doing what he had to do and that he had ingested poison. ďHe fling down he phone in de corner and say that he problems done.Ē
She said that she called some of his relatives to talk to him but he fled into the bushy backlands and has since not been seen. The drama began to unfold at Augustís residence where she lived with her aunt, some time after 10:00 hours yesterday.
Loraine Singh, the young womanís aunt, said that two police ranks visited her Canal Number One home and asked her if she was related to the dead woman.
The woman said she told them that Sunita lived with her along with her three children. The woman added that the police refused to divulge any further information despite her many efforts to ascertain whether something was wrong with her niece.
ďI keep asking he if something wrong with she; if she get in accident and he ainít tell me nothing. He just tell me he gon come back,Ē Singh said.
She added that some time around noon when she went to pick up her nieceís children from school she overheard people talking that her husband murdered her niece.
Meanwhile, another aunt said that they received similar information and began searching the Nismes foreshore and the kokers in the area where they were told that the womanís body was dumped.
However they, like the police, came up empty-handed. Their search was intensified by other members of the community who scoured the entire area.
According to residents of the area the man was seen at the foreshore area and some time later he was seen in different clothing fleeing the area after he spotted the crowd.
It was after this sighting that he reportedly went home and subsequently fled.
The manís relatives said that when they saw him his clothes were soaked in what they believed was a poisonous substance.
During the search, which involved scores of law enforcement, ranks and even some members of the community two gunshots rang out in the backlands. Relatives then waited to see if the police would emerge from the bushes with Moniram.
At one point, when reinforcements arrived one rank appeared to be carrying what appeared to be smoke canisters.
As word of the search spread several of the womanís co-workers turned up.
One co-worker said that he last saw Sunita on Tuesday afternoon but she left her place of employment in a hurry. He said that the woman had reported that her husband from whom she had been separated had been stalking her at her work place.
The woman was employed at the Coconut Groove Bar in La Grange.
ďImagine only Sunday I talk to this boy. I tell he donít come around here, and harass this girl and he tell me he donít beat woman, that he just come to see her,Ē the womanís co-worker related.
The woman had only been working at the bar for the past two weeks.
From all accounts by relatives on both sides as they anxiously awaited word from the police and the search party, many attest to the fact that the couple had a very troubled marriage. Relatives of both Sunita and Moniram said that the couple had separated because of several problems.
Moniram reportedly walked out of the marriage some two months ago. His relatives claim that his wife was being unfaithful, while her relatives are contending that Moniram was abusive.
Sunitaís aunt said that only recently Moniram had threatened to burn the house down and kill his wife. A report was made at the La Grange Police Station.
The womanís aunt said even after the coupleís separation Moniram continued to stalk Sunita forcing her to seek refuge at a police officerís home in fear of her life.
This woman, during the course of last year, reportedly made several reports to the police regarding physical abuse she was receiving, ďand every time she walk away from him he always find her and usually he would have a cutlass or knife,Ē said one of the now dead womanís friends.
August leaves to mourn three children, two girls and a boy.
Thursday, January 14, 2010