Line Path woman brutally murdered
- Husband detained
LINE PATH, CORENTYNE – What began as a mundane day quickly changed for residents of Line Path on the Corentyne when the body of 43-year-old Nalini Bhoge was found in her home about mid-morning yesterday.


Police in Berbice recovered a cutlass and an ice pick which were suspected to be the weapons of choice in the woman's death. The woman's husband has been detained.
The mother of three was found with her neck almost severed and a chop to the back of her head.
The circumstances surrounding her demise are still unclear. However, according to police reports, she was alone at her Lot 19 Line Path home when the incident occurred.
Police reports further indicate that her husband, Boodh Bhoge, had left their home earlier to take the two younger children to school. Upon his return, he entered the three-bedroom home then shortly after made his way back to the front stairway (verandah) to smoke a cigarette.
He later went back into the house where he saw his wife in bed, dead.
According to information received from police, the man said when he returned home he did not look around for his wife neither did he suspect that anything was wrong.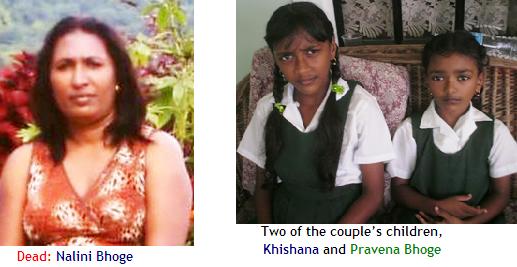 The house showed no signs of breakage and the husband indicated to police that he may have left a window open. The victim's husband also told detectives that he had some $60,000 in the home but at that time it was too soon to say if it was missing.
As word of the tragedy found its way around the community, several persons flocked the scene to get a glimpse of the victim. Sometime after 13:00 hours the corpse was taken to the Skeldon Hospital where an autopsy is expected to be performed shortly.
When Kaieteur News arrived on the scene, detectives led by Divisional Detective Officer, Marlon Chapman, were scouring the scene for clues.
The husband, Boodh Bhoge called 'Minku', a cane farmer, tried to avoid the spotlight at all cost. He even guided his daughters away from media representatives whenever possible. He briefly said he returned home and saw his wife dead and could not say what had transpired.
Their eldest child, 12-year old Bharti Bhoge said she was at school when she heard the news, "Some students say somebody chop she, I don't know how, but me mother dead. I left home about 8:30 for school and she been home alone."
The Skeldon Line Path Secondary School student immediately made her way home where she confirmed that it was all true, "When I come home I see a set of people. I didn't see the body. Daddy say he come home and see Mummy lie down in the room dead. They say she neck chop."
The child said her father and mother took turns in escorting her two younger siblings to school. Ten-year old Khishana Bhoge, a Grade Five student, and seven-year old Pravena Bhoge, a Grade Three student, both attend Skeldon Primary School.
Yesterday, her father left home with the children before she did, and as she was leaving her mother's last words to her were, "Turn off the pump."
Sitting on a bench under the house where the incident happened, the dead woman's mother, Vadewattie called 'Bado', wept bitterly as relatives tried to console her, "Me nah know me name… me nah know anything now…me daughter dead."
When she did compose herself she said she was at her home in another section of the same Line Path when her son-in-law, Boodh Bhoge, placed a telephone call to her, "He ask if me son Vicky deh home. He say alyuh come quick! Me ask he what wrong but he nah say nuttin' We then left fuh come here."
When the 69-year old woman arrived on the scene just about 10:00 hours, her worst fears became a reality, "When me run upstairs, me see she lie down in the room on the ground.
Me see the blood and me can't see no more. Me fall down. She alone been home when it happen, rice been cook on the stove when it happen. She husband tell me that she been ah sweep a front ah de house. The husband tell me he had to turn off the stove. He say one room ransack. When me come they had blood on she clothes and blood on the floor."
A neighbour, Bhagwattie Nakhul, saw Nalini Bhoge sometime between 08:30 and 09:00 hours and she recalled that the woman appeared to be her usual self. Moments later she heard someone calling at the Bhoge's gate but she paid no attention to the caller, explaining that because of the nature of Mr. Bhoge's job, the family gets frequent visitors.
A short time after she heard Mr. Bhoge communicating with a passerby,."Somebody kill me wife," she heard him say. "Me watch he and he watch me and nuh say nuttin' to me." To her this behaviour was not odd, "He funny bad…But she was a nice person…friendly."
When Bhagwattie Nakhul saw the body, the woman was lying on her stomach drenched in blood.
The family had been robbed last month by armed bandits.