The partly decomposed body of 24-year-old Vidanand Latchman was discovered hanging from a rafter in his mother's house at Belle West, New Housing Scheme, Canal Number Two Polder, West Bank Demerara on Wednesday.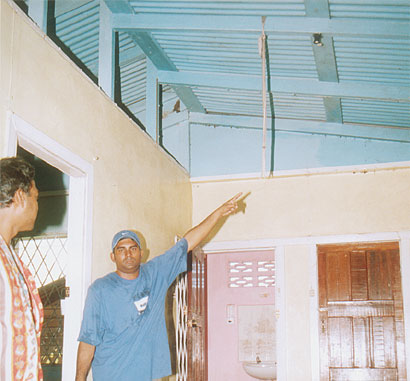 Andrew Kalliram pointing to the cement sling and the rafter where his brother-in-law was found hanging.
His brother-in-Law, Andrew Kalliram, 31, told the Chronicle that the deceased lived alone, but is married with two children, and lived away from his wife.

Kalliram said his mother migrated a year ago and since then Latchman lived in the house, and was not known to be a trouble maker, though he had a drinking problem.

Neighbours said they last saw Latchman alive Thursday last week when he was on his way home walking on the nearby dam.

"He does drink and go home and never troubled anyone, so his death came as a surprise because he was not a person who would take his own life," a neighbour said.

They said for a few days prior to the discovery they were aware of an obnoxious smell coming from Latchman's residence and informed the police.

Latchman's body was found in the living room, hanging from a cement sling.

Relatives and neighbours yesterday visited the house and tried to cleanse the building.

Latchman's neighbours believe he was murdered.

The police removed the corpse about 15:30 h yesterday.

The police are investigating and a post mortem on the corpse is scheduled for today.
Friday, December 02, 2005