LUSIGNAN EXPLODES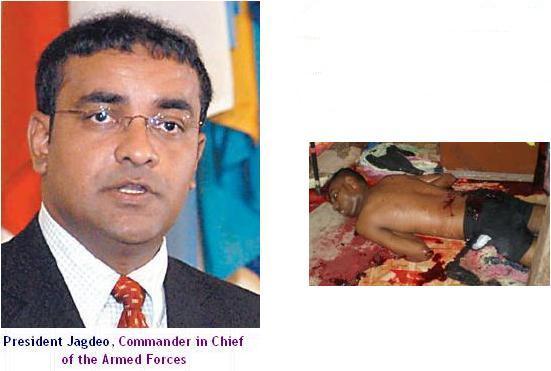 | | |
| --- | --- |
| | angry residents shut down East Demerara thoroughfare, burn tyres, |
| | call for return of Roger Khan and Gajraj; |
| | ask Jagdeo to go |
(By Mondale Smith, Michael Jordan, Jenelle Carter and Nadia Guyadeen)
Bottle bombs Grief-stricken-villagers Vigilantes_freed
Residents from the normally quiet community of Lusignan yesterday burned tyres and blocked the major thoroughfare, as well as streets, to vent their rage at the slaughter of 11 of their own, including five children.
Marauding gunmen descended on the village, kicking in doors and killing people, some of whom were in bed asleep, early yesterday morning.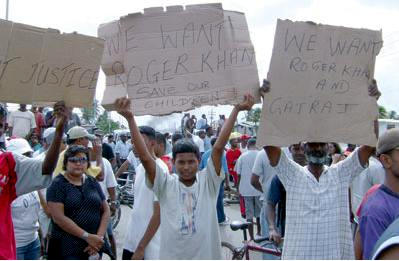 By sunrise, residents rang bells and sounded gongs along the East Coast Demerara Public Road, while others of various ages, with tears flowing, pounded on a barrel.
"We want Roger Khan, Gajraj and guns!" and "Jagdeo and Rohee must go!" were their constant chants as they gave vent to their anger and frustration.
Government ministers and members of the armed forces, who attempted to restore order, were forced to endure the taunts of residents, who repeatedly accused officials of failing to protect them, despite having ample warning that such attacks could occur.
Roger-Another-diversion Talented-Khan Rastafari-summit Basdeo_Narine

Some were even slapped about the head, had the wheels of their vehicles punctured, and were pelted with plastic bottles. At least one minister was pelted with an egg.
Fishermen tell tales of terror

Even President Bharrat Jagdeo was not spared; some residents called on him to resign.
Some Government officials were also manhandled, and there were reports that Minister of Works Robeson Benn was struck on the head with a piece of wood.
In one instance, some residents attempted to topple a Ministry of Works tractor and trailer as well as Minister Shaik Baksh's vehicle into a ditch.
The chaos continued up to late yesterday afternoon.
Residents had begun milling in the streets by daybreak, as they got wind of the massacre.
By 7:30 hrs, several young men, unable to contain their anger, began dumping tyres, scrap metal, sand and other refuse on the East Coast Demerara Highway, the Railway Embankment and other roadways, eventually blocking all streets and bridges between Beterverwagting and Lusignan.
They then soaked the tyres with petrol and set them alight, sending flames and plumes of black smoke into the air. Every conceivable piece of debris was used to block the road, and by noon both symbols of the leading party (two large drums fashioned into cups) were pulled down and set ablaze.
"Them children ain't do nobody nutten; we ain't want politics, we want guns to protect we self. The army and police is a waste of time."
At first, ranks from the Guyana Defence Force tried to restore order and put out the fires.
But as soon as they succeeded, residents dragged more refuse to the roadways and rekindled the flames.
Eventually, the ranks just allowed the refuse to burn as the residents became confrontational. One rank was slapped, and he became enraged, but controlled his anger even as one of his colleagues cocked his weapon. This happened on the Railway Embankment.
"Knock we and shoot we, nah. Leh we see if all of ya'll ain't gon dead today…is murderation!"
Traffic in the vicinity of Lusignan slowed to a crawl as vehicles were unable to traverse the blocked roads. Some turned back while others had to be abandoned.
Realizing that holding out was an effort in futility, some passengers opted to walk to the nearest point where they could board another transport to their destination.
Several sand trucks heading east were ordered to dump their load on the roadway and on main bridges, while in some areas plates were removed from the bridges.
During their tour of the village, government ministers offered their condolences to those residents whose loved ones had been slaughtered, but most went unaccepted. "Ya'll stop or ya'll gon get hurt," warned Minister Priya Manickchand, but the villagers responded, "Hurt? De hurt already at the mortuary. Condolence can't bring dem back. Wah ya'll come fah?"
"This is the most unfortunate day for the village (Lusignan). We feel for the residents and we want to express this (sympathy), we will be offering assistance to the families," Minister of Human Services Priya Manickchand said.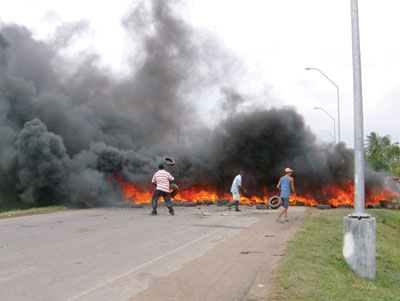 Nearby, Minister Robeson Benn, who had one of the worst confrontations, was moved to tears as he described the killings as, "A sad happening in Guyana that goes beyond race."
But this failed to pacify the residents, who placed the blame at the feet of the government and the joint services.
The residents pointed out that government officials and the military had ample warning that such attacks would occur, following last Wednesday night's gunning down of a soldier in Buxton, and Friday night's gun attack on Police Headquarters.
Minister Shaik Baksh did not escape the wrath of the villagers. As he tried to console the residents, he was dealt a slap to the back of his head minutes after he was booed and taunted.
He slowly walked to safety with an angry mob behind, lobbing plastic bottles at him and shouting, "Get out! We does got to get numbers to see you. Where you number deh now?"
Home Affairs Minister Clement Rohee also was not spared the insults. While entering the village his vehicle was pelted with an egg, and as he walked through, shouts of "Rohee must go! Bring back de big guts man now," permeated the air.
He walked from one end of the highway to another, apparently unmoved by the chants.
Prime Minister Samuel Hinds was also in the village.
As Kaieteur News left the scene, a loud hailer with men on several vehicles shouted, "Enough is enough! We having wake on the road tonight, and Jagdeo must stand the funeral expenses."
Police officials had stated that they had received several threatening calls in recent days from a man purporting to be wanted man Rondel Rawlins, called 'Fine Man'.
"If they (the armed forces) can't control a gang of 20 people, how can they fight a war?" one woman asked
That Mr Khan's crime fighting unit was effective in the fight against crime and was responsible for the demise of most of the escapees.
Robert Gates
Sunday, January 27th 2008