Kiltairn couple robbed by armed bandits
A Kiltairn, Corentyne businessman, his wife and a customer in their shop were on Saturday night robbed of cash and jewellery by four armed men.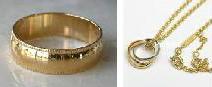 According to a police press release Kumar Dalipchan, his wife and a male customer were in the couple's grocery when the men entered the shop and ordered them to lie on the ground. The bandits then took away cash and jewellery in the sum of $624,000, five cell phones, a video camera and a quantity of phone cards. They then made good their escape.
Investigations into the robbery are continuing, the release said.