Indian envoy pledges to build on ties with Guyana
`We need to create visible landmarks in the form of a hospital, technical institution or some similar venture through our economic cooperation...' - High Commissioner, Mr. Tara Singh


by Mark Ramotar


RECENTLY appointed Indian High Commissioner to Guyana, Mr. Tara Singh, has said that although Guyana and India enjoy a close and warm friendship based on age-old historical ties, the potential that exists for further strengthening bilateral relations has not been fully exploited.
Speaking Sunday evening at a reception he hosted at his residence in University Gardens, East Coast Demerara, to mark India's 54th year as a Republic, Mr. Singh said since he arrived in Guyana just two months ago, he has begun to realise that "we have not fully exploited the potential that exists for further strengthening the bilateral relations between India and Guyana".

As such, he pledged that during his tenure in Guyana as the High Commissioner of India, he would endeavour to further increase the assistance to this country under the Indian Technical and Economic Cooperation (ITEC) programme and other similar schemes.


"We need to create visible landmarks in the form of a hospital, technical institution or some similar venture through our economic cooperation (and) I am sure in this endeavour I would be able to count on the support and cooperation from His Excellency the President and his Government," he said.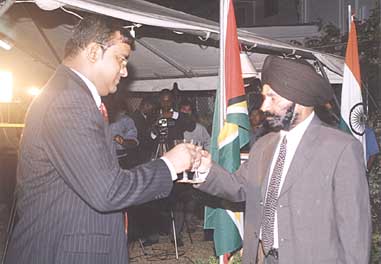 ANNIVERSARY TOAST: President Bharrat Jagdeo and India's High Commissioner to Guyana, Mr. Tara Singh toast during the celebration of India's 54th Republic Anniversary



"We are going to begin the new year with high level contacts between India and Guyana when the Indian Minister of State for External Affairs, Mr. Digvijay Singh arrives in Guyana in early February for bilateral discussions," he told the gathering at the reception.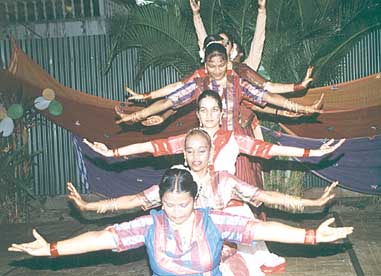 TRIBUTE: members of the Indian Cultural Centre during a dance item at the 54th anniversary celebration of India's Republican status on the lawns of the Indian High Commissioner's Residence, University Gardens, on Sunday night. (Winston Oudkerk photos)

According to Singh, both Guyana and India remain committed to the common ideals of promoting universal peace and equitable economic development and have been working together for the creation of a safer and better world.


"The bilateral relations between India and Guyana have always been cordial and friendly," he noted.


The envoy also lauded the ITEC programme as an important avenue of cooperation between the two countries.


He pointed out that every year, many Guyanese nationals are sent to India to receive training and practical experience in diverse fields in some of India's best educational, technical and professional institutions under this programme.


He also said that all expenses for such training, including cost of international travel, are borne by the Government of India.


Singh, who succeeded Mr. Prakash Joshi as High Commissioner, said that under the ITEC programme, several Indian professionals are deputed to Guyana to work in various specialised fields.


"At present, we have some ITEC experts working in Guyana and many more are expected soon," he said.


The Indian High Commission, he said, has been making every effort to promote cultural links between Indian and Guyana.


In this regard, he said a number of special programmes highlighting different aspects of Indian culture, history and other areas are telecast on the local TV channels.


He expressed optimism that the Guyanese Head of State would visit India this year.


He also proposed a toast to President Bharrat Jagdeo's good health and to the strengthening of bonds of friendship and cooperation which exist "between our two fraternal countries, governments and their people" and to the progress and welfare of all humanity.


In response to his toast, President Jagdeo told the Indian High Commissioner that Guyana remains firmly committed to deepening relations with India.


He noted that since its independence, India has made admirable advances in becoming "a modern, progressive and prosperous nation".


"Considerable progress has been made towards guaranteeing the full realisation of the objectives of the founding fathers of the Indian Republic which have centred on the improvement of the living standards of India's vast population and the enhancement of India's role within the international community," he said.


He said equally impressive has been the role India plays in international affairs in the various councils of the world.


"India's voice will always be heard in defence of developing countries and in the promotion of international peace and security," the Guyanese Head of State lauded.


President Jagdeo said, too, that Guyana and India have historically worked together in all institutions of which both countries are members, to advance political, economic and social conditions.


As such, Mr. Jagdeo told the gathering, it is "only fitting that we recognise today the many achievements that have been recorded in all areas of (India's) national endeavours". The President went on to list some of these achievements.


Earlier in the programme, the Indian High Commissioner took the opportunity to highlight some important aspects of the Indian economy, which he said has been growing at a satisfactory rate of 6-7% over the years.


"On many critical indicators - exports, industrial production, foreign exchange reserves, foreign investment and inflation - the economy did much better in the year 2002," he said.


"We remain committed to building an egalitarian society in which all strata of our society derive benefit from the fruits of progress (and) we have before us the goal of eradicating poverty and providing a decent standard of living to all our citizens," he said.


He also proudly announced that India has been forecast to have the fastest growing information technology (IT) market in the world during 2003.


"The Indian domestic market is expected to grow between 25 and 30 per cent. The technology investments by the Union and State Governments and state-owned companies would promote domestic growth (and) India would remain the undisputed leader as an 'offshore business process outsourcing' destination during 2003," High Commissioner Singh said.


Several Government Minister and members of the diplomatic community, and their spouses, attended the anniversary celebrations, which included a rich cultural programme of songs, classical and other dances, drumming, and yoga..
Tuesday, January 28, 2003