IAC horrified at attack on woman and baby
…wants vicious criminals eradicated from Stabroek Market vicinity.
(Indian Arrival Committee - IAC)

The call is in reaction to the recent attack on a hapless woman from Essequibo Coast and her five-month-old baby in the vicinity of Stabroek Market, which resulted in the woman being beaten and robbed of her husband's salary, and the baby suffered a broken hand as bandits relieved the child of jewellery.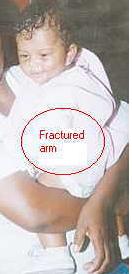 Baby suffered a broken hand

Said the IAC, is it "absolutely horrified at the unspeakable brutal, cowardly and animalistic assault and robbery", and further expressed more horror that such an "obscene act was perpetrated in the full view of the public who were for the most part, coldly indifferent as to what was transpiring right before their eyes

Also, " it is deeply dismayed at the daily and frequent acts of robbery and violence perpetrated on innocent Guyanese, including a very large proportion of Indo-Guyanese and mixed Indo-Guyanese in the vicinity of Stabroek Market."
The victim, Sonia Persaud was robbed of $20,000 and her baby five gold rings, 2 pairs of gold bands and one pair of gold bangles.
Wednesday, June 25, 2003