The trial of ex-soldiers Oliver Hinckson and James Gibson was yesterday adjourned by Magistrate Gordon Gilhuys after Hinckson failed to show up in court once again.

Jagdeo_dissatisfied-security-forces The military has not protected citizens Grief-stricken-villagers
Reports reaching this newspaper are that Hinckson is stranded in the United States after his passport was taken away by US officials while he was being questioned in Washington about his status as an American citizen.
His lawyer Leslie Sobers told this newspaper about two months ago that his client was invited to the US last year and during a meeting with authorities his passport was seized.
Sobers said that so far, Hinckson was interviewed twice by authorities in the US concerning his prolonged stay in Guyana. Sobers could not say what has come out of those meetings, but he indicated that Hinckson was to meet again with the authorities.
He could not say when Hinckson would be allowed to travel back to Guyana for his trial and added that his client would like to return here to complete the court matter.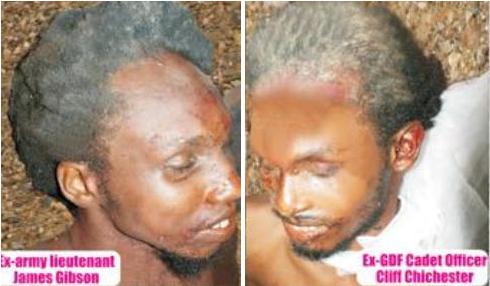 Hinckson, a former army lieutenant and James Gibson, who is also an ex-soldier, are jointly charged with having a .38 pistol, 12 .38 rounds and 26 12-gauge shotgun cartridges on June 6 at Lot 115 Aubrey Barker Street, South Ruimveldt.
They made their first appearance in court on June 12 last year and were subsequently released on $75,000 bail each. They denied the allegations that were made against them.
On March 9 last the army issued wanted bulletins for the two men, following the disappearance of 30 AK-47 rifles and five pistols from GDF headquarters. They were then out of sight until police acting on a tip-off swooped on the South Ruimveldt house around 2 pm on June 6. During the search of the premises, the illegal items were reportedly found. The two men were taken to army headquarters before being handed over to police.
The trial began with the testimony of Criminal Investigation Department (CID) rank Cleveland Browne. Evidence in the case has not been taken since Hinckson's travel documents were taken away.
Yesterday when the matter was called Gibson and Nigel Hughes, one of the lawyers defending the duo, were present.
The matter comes up again on August 17.