Date: Fri, 12 Sep 2003 (EDT)

Subject: Re: More emails on Sir RAMPHAL--middle

Sutley,
You are very polite addressing the man as Sir that you say betrayed and sell Indians causing injustice to humanity. Is there a reason for the Sir or you are just a gentle man working on his conscious.LoL.

Yeah Jahaji all, the same money India would give to build a stadium we should make a representation to them to take that money and build back the Archives which that brother (Atman) found to be 70% destroyed.

Things like these we become active and just not sit here and write alone. Action speaks louder than words so what should do as the older head here Sutley. Should we pass around a petition objecting that waste of funds and calling for it to spent on building back the archives in India. A petition can go a far way all across the West Indies, UK, North America and then to the Indian Gov't. It is highly likely due to past history that the raakshaas will break up such a stadium any shouting slogans that this is Indian mark here lets burn it down. Conscious move
Hari


India considers funding 20,000-seat World Cup stadium
"We have to be prepared to move quickly"- Jagdeo


The Indian government has agreed to consider building a multi-purpose stadium to boost Guyana's bid to host cricket matches during the 2007 World Cup to be staged in the West Indies.

Subject: [IndianCaribbean] dirty tricks and Indian money.

Hello Bros and Sisters,
Is it for real that India would help fund a 20,000 seater cricket Stadium in Guyana? Should Indians put their resources (money) into building a nation's public infrastructure in the West Indies especially Guyana? We have seen this in places like Guyana where local Indians have raised money to build places like schools, hospitals, community centers etc. Is there an imbalance of such types of contributions/ donations comparing Indos and Afros? Is there an imbalance of contributions between Afro business personnel's and Indo business personnel's supporting things like sponsorship of West Indian programs (general)??

We must be aware by now that over the years Indians in the West Indies have endured the most

heinous types of atrocities and injustice unleashed on them by Negroes. Of course, the Indian victimisation, suffering and destruction we should make prominently always (never forget). So that our grandchildren and later generations be aware of what kind of unjust history we have and some of the terrible things ( black oppression, persecution) our kind of people have lived with.

We should reflect on our experiences how much we gave and built already and how that is being taken advantage of. That today we are deemed to have money and thus we hear hateful calls such as, take from the Indians....Indians have money. Sad, I am poor and a victim of black oppression donno about you guys.Lets look at a few experiences before we answer, should India pour in their resources as mentioned above?

We see how a Caribbean radio program on Saturday nights 100.7 FM host by a so called Indian. Indian businesses would advertise on this program, have helped it financially but the MC entertains the Afro Caribbean music taste and exclude Indian entertainment. You all know this guy? He has a serious problem giving the nod to anti-multiculturalism in the Caribbean. A foreigner can listen to his program/music and believe that Indians does not belong to the Caribbean especially after Sundar Popo died. I remember hearing some Indian tunes before Sundar Popo died on this so-called Caribbean program. A community that should foster multiculturalism since the Caribbean is home to Indians as well. Should Indians become more conscious and love themselves to take action in a civil way not to support programs from a host who suits his kind of adopted culture only and exclude us?

We remember the popular national culture in Guyana that was built with Indian Indentured Labourers Funds. The centre was built to facilitate Indian programs among others and to pay tribute to our Ancestors who toiled to develop Guyana. What happened after it was built? Permission was denied by the Burnham regime to hold Indian Indentured Arrival day programs at this same centre built with Indentured funds. Wow. Unfortunately our deceased sister devout Indian culture promoter Latchmi Kallicharran could not foretell such injustice.

Sister Latchmi is one of the prominent Indian culture promoters who died mysteriously in Guyana. Her home in Kitty Georgetown was burnt mysteriously one can say and she perished in the blaze while the doors were found locked from outside. God rest her sweet soul. We shall keep our eyes, ears and minds open because Indian history should not be heed in vain. Unity and love.
Hari


Subject: Re: [Guyanese] World Cup stadium for Guyana???/How silly. If the Indian Government can give us a stadium, that will go down in history as the Government of India's contribution to Guyana. It will be a landmark. never mind the hassles about contracts etc
Bibi Khan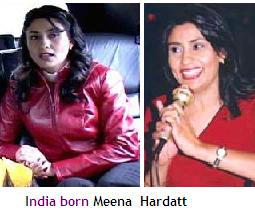 Dear Bharat Vasi and Sarkar,(People of India and it's Government)
Thank you for opening your hearts to your people that although left many generations ago, you still recognize. Thank you for working with us to establish, build and maintain a link among all Indians regardless of generations. We too are trying through various organizations like GOPIO. I don't consider it as a favour you grant us, but we express gratitude as that is what my Indian heritage teaches me....humility with dignity.

I'm married to a Guyanese man and when I tell people, I'm from India but my husband is Guyanese....the only response I've gotten is..he's still Indian though, just they left a few generations ago and you and I have recently left India. There will always be people with the miserable mentality. We cannot allow them to cripple our thoughts and actions.

Thank you for gathering us into your folds......as we gain our identity from India....we too are ambassadors of India and we are both incomplete without each other.

Meena Santdasani Hardatt
Born in Lucknow, India. ".because a small action can create big change ! "

Subject:RE: Subject: [IndianCaribbean] dirty tricks and Indian money.
Date:
Mon, 15 Sep 2003 08:42:15 -0400

Alvin,
You are going to be accused of spreading racism even though you are speaking the truth.

I welcome the investment in Guyana and it is good that you point out that no African country has made any such investment - they have diamond mines and oil but they still need the world to give them food and financial aid. The stadium will be for all Guyanese who can afford to buy tickets. On the issue of radio/TV programs we are all to blame. When the programs do not carry "chutney" music we complain about the religious content. I believe that there are enough media access to "western" program and not enough of "eastern" programs.

It is regrettable that the government which classifies itself as the world largest democracy would take such actions. However, we must be certain that it was the government that took those actions and not the private owners of the sites. We have to bear in mind that no one would accept criticism such as that which we sent forward because after all, an award was presented to a world class crook/criminal. To acknowledge what we pointed out would subject them to ridicule so instead of doing what is correct they stoop to hiding behind the firewalls.At least they have not bombarded us with negativities such as that we get from affiliates of the PNC.

On the subject of the stadium and the criticism coming in against Sutley I wish to remind our brothers and sisters that in the '70s LFSB "(Emperor Linden Forbes Sampson Burnham) "co-charred" the Indians lead by Maha Sabha and the Pandit Council into supporting the building of facilities that would enhance the Guyanese culture. Indians would have equal access, etc., etc. The Cultural Centre was built and in time Indians did get access. However as time unfolded, the access to space became more restrictive, and let us not forget the location where it was built either!!! A perfect spot for young Indian girls to go to in order to get training in dancing and music etc. It was a perfect location for them to step out at nights after classes!!!!

Freedom of speech is a right given at birth. The doctor slapped our bottoms in order to reinforce that fact. No one should try to close it down.
Ram Singh