Murder at City Bar.
Grieving mother recalls the last she saw of her daughter
By Michel Outridge

KHULMATTIE Singh left her ailing mother and her four children at their Second Field, Cummings Lodge, East Coast Demerara home on Friday night, fully intending to return to them after a hard days work. But she never did make it. The 36-year-old waitresss life was snuffed out when she took a bullet to the head while on the job.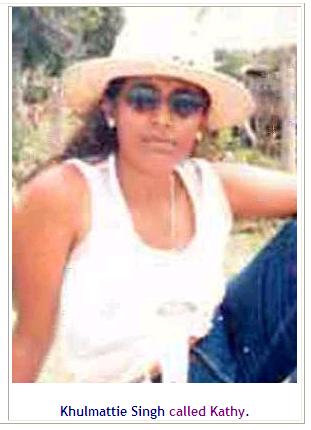 The womans mother, Chandrapattie Singh, 64, who was on the brink of tears as she spoke to the Guyana Chronicle yesterday, said that her only child was killed in the most brutal of fashion.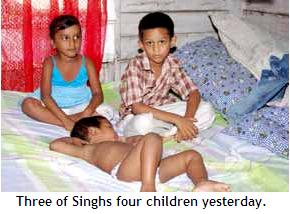 The elderly woman said that Khulmattie, also known as Kathy, left home at about 15:00h for work at Safraz Sports Bar and Restaurant, located on David and Lamaha Streets in the northeastern extremities of the city. It was the last time she would ever see or hear from her.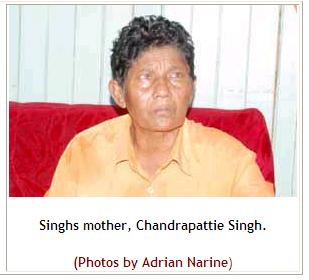 I would go to bed early, and as it approaches midnight, I would get up and sit in the hammock in the verandah and wait for my child to return home from work every night,ö the grieving mother said. As she explained, her daughter was working the night shift at the time, and usually returned home at around midnight. Next month would have been a year since she started working at the bar.

She would later learn of the young womans demise when a colleague of hers called to say that her workplace was robbed and that Kathy was shot in the process. They did not tell me right away that my daughter was dead, she wailed.

She described her daughter as being a very loving and friendly person who was well-liked. Her four children, aged 18, seven, five and two, were yesterday said to be asking after their mother as relatives, friends and neighbours gathered to comfort their grandmother.
What seems to trouble the woman the most is that this is the third person in her family to have been gunned down while at work. The first incident occurred a few years ago, when her brother, who worked as a security guard at the Cyril Potter College of Education (CPCE) was fatally shot by bandits while on the job. Then on February 18, 2008, the day of the infamous Bartica Massacre, her other brother, Baldeo Singh, was gunned down by a group of heavily-armed bandits. He was among the twelve persons, including three policemen, who were shot and killed that fateful night.

The Police said yesterday that at about 21:10h on Friday night, three men, two of whom were armed with handguns, attacked and robbed patrons and staff of the Safrazs Sports Bar and Restaurant. Reports are that after entering the nightspot and holding everyone at gunpoint, the three bandits proceeded to relieve several persons of their jewellery, cash and cell-phones, and the bartender of the days takings.

Besides shooting the waitress to death, the men also shot and injured Jason Montgomery, 38, an Australian national here on business, and 39-year-old Ronald Dhanraj, of Ogle, East Coast Demerara, both of whom were patrons.

Montgomery was shot to his abdomen and is now a patient at the Georgetown Public Hospital Corporation (GPHC) where he underwent surgery early yesterday. According to his business partner, Mark Xavier, he is fully conscious and on the road to recovery.
Dhanraj, on the other hand, was shot under his left arm and is a patient at a private hospital.
All three assailants escaped unscathed in a waiting Toyota Carina AT 192 motor car.
Safrazs was yesterday closed for business in order to facilitate the police with their investigations.
day, January 10, 2010