"Fourteen years and we never loss a spoon… and just so sudden this," Bibi Khan whispered as her mind went back to that fateful Saturday morning when her eldest son Shazam Mohamed was hit by bullets that flew from the hands of a killer who may never have even seen his face.
Intertwined with his parents' grief, there was a sense of pride as they spoke about their son who they had struggled to educate only to lose him in the prime of his life; one month away from his 23rd birthday.
"I was a farmer but I didn't bring him up in that way," Nadir Mohamed told Stabroek News. The father related that he had spent his last cent on his son's education and that Shazam had not disappointed him. His sudden death was a hard pill to swallow and it was a rough year for the family. Their only daughter has since been married as the wedding had already been planned before their son's death and they have built a new home that is almost finished, but there is a void that can never be filled.
Pulling through last year was hard since it was the first year and hence first holidays, birthdays and other markers without him, Mohamed related.
Meanwhile, for Mohamed, who was also injured in the onslaught, life has been altered too. Bullets had ripped the muscles in his right and left calves and he had been hospitalized for several weeks. He has now lost his agility, which he depended on as a farmer.
At the time of the killings he was reaping eddoes on the Linden Highway but had lost everything since he could not return to the farm because of his injuries. Even though his legs have healed the man said that "I can't use these legs like I used to… can't manoeuvre like before." He has had to give up planting on a large scale but still has a kitchen garden from which he sells one or two things. The couple has also opened a small business at their house which keeps them going.
According to the couple, the death of Rondell `Fineman' Rawlins – the reputed leader of the gang that was said to have attacked Lusignan – did not make much difference to them. "We had already suffered and pass through the pain when he died… it didn't make no difference," Mohamed said. He described the feeling as going to war, "once you're scarred you don't care after."
Clarence Thomas, Vanessa Thomas and Ron Thomas
"I can't get them back… and I can never forget but I must live on for my other children," said Gomattie Thomas who lost her husband 48-year-old, Clarence Thomas, her 12-year-old daughter, Vanessa Thomas and her son, Ron Thomas.
Sitting on a bench outside her refurbished home Gomattie related how harsh it is sometimes to deal with the reality that she will never see her loved ones again.
"It's a memory I can never erase, something we have to live with until we eyes close," she said in an interview with Stabroek News. But despite the fact that some days are so draining that all she wants to do is lie down and die, Gomattie gets up and goes through the paces for her remaining children. And for that reason she tried her best at Christmas especially for little Roberto who had been critical and in the ICU for months after the attack. The holiday was not the same and there were no extravagant festivities, but the family celebrated Christmas quietly doing little things that could have provided a bit of comfort.
Gomattie tried to change the general look of her home with the money she got from various organisations and the Kaieteur News fund. She completed the construction of her house that was half finished when her husband died, fenced it and tried to get rid of many things in the home that served as a constant reminder of those lost.
But as one person who lost a loved one said, you do not recover from the loss; instead, you learn to incorporate their absence and memories into your life and channel your emotional energy towards others. Eventually, it has been said, your grief walks beside you instead of consuming you. This theory applies to the Tract 'A' community.
Gomattie relayed to Stabroek News that a lot has changed as it relates to the family's every-day lives. She recalled the days when they used to stay outside late at night; times when her husband would leave the door open at odd hours and go to bathe at the sideline trench. She said she used to quarrel with him for leaving the door open and he would always ask her what could possibly happen; and then without warning something of this magnitude did–when the door was closed.
She told Stabroek News that she no longer felt secure in her community even though nothing else has happened since that fateful day. She and other residents are awaiting the clearing of the grasslands behind them and the police outpost they were promised; two things which were never even started much less finished. The residents have expressed their disappointment with the authorities for not delivering on their promises.
Additionally, residents say that there has been no police presence in the area for a while now.
According to Nadir Mohamed "when things de fresh they use to come…" but for the entire Christmas season and so far this year no police patrols were seen.
When contacted for a comment Commander of the 'C' Division Balram Persaud denied that this was the case. The commander said that within the last few months there has been a reduction of serious crimes on the East Coast, which is a direct result of pro-active policing from Abary right down to Conversation Tree.
Mohandai Gourdat, Seegobind Harrilall and Seegopaul Harrilall
Pain is still evident in the voice of Rajkumar Harrilall called 'Bobby' who lost his wife, 32-year-old, Mohandai Gourdat, and his two sons, four-year-old Seegobind Harrilall and ten-year-old Seegopaul Harrilall. They were cut down while scrambling to get under their bed.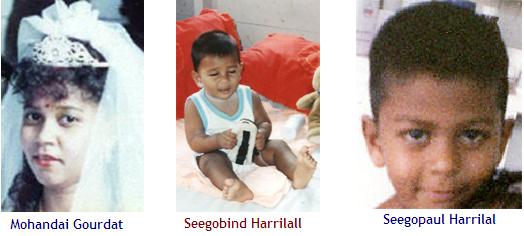 "I don't know how I can move on to someone else or so," Harrilall told Stabroek News. He has moved out of the house he had shared with his family since the pain of living there had become unbearable. "At first, like I was in a daze. I thought them de gone on vacation or something and then realization hit; they never coming back."
It got to a point where he could not stay in the house any longer and therefore moved to live with his mother. Having his relatives around provides a bit of warmth in his otherwise cold life. Harrilall had left to work in Trinidad for "betterment" about one month prior to the massacre.
Shaleem Baksh
Bibi Zulika Baksh has boarded up the space where there were louvre windows at the side of her house and where the gunmen had gained entry. Her husband 55-year-old Shaleem Baksh died after several bullets were pumped into his head. He was pulled from under the bed where he, his wife and daughter were hiding. Miraculously the other two were left physically unharmed. However their emotional scars run deep.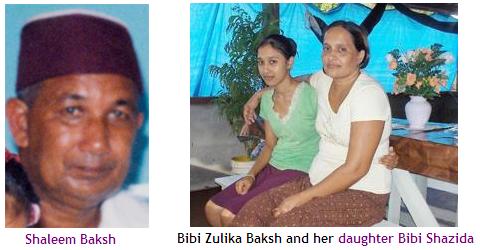 Zulika Baksh said that she has a hard time dealing with the experience and was grateful for the counselling the community received.
The woman has changed the look of her home, even concreting her yard. Fondly she remembered how her husband hated to walk in the mud "and now he nah deh fuh see what me do to the place," she told Stabroek News.
Zulika Baksh, who held a memorial service for her husband yesterday, still cannot sleep alone and her parents, who live in the area, have to go over and stay with her at night.
Baksh said that around mid-last year she was becoming more accustomed to dealing with her feelings but now that the date is at hand she is troubled again.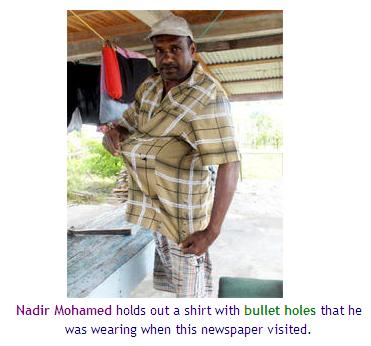 "I will never be at ease or comfortable again. I just look after meh children. How long me able, meh a go," she said.
She has taken a job as a domestic and told this newspaper, "whatever lil we get we make much with it."
She said she has packed up all of her husband's things but does not have the heart to get rid of them.
Meanwhile, her 15-year-old daughter Bibi Shazida is now holding up much better. For weeks after the attack she could not speak and would get frightened when she saw any guns, even if it were the police and soldiers patrolling.
Seecharran Rooplall, Dhanrajie Ramsingh and Raywattie Ramsingh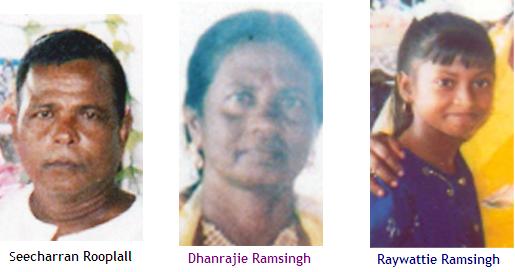 Vishnu Seecharran was not at home when his father Seecharran Rooplall, 56; his mother, Dhanrajie Ramsingh, 52, and his adopted sister 11-year-old Raywattie Ramsingh were cut down while hugging each other bracing a wall.
The young man who now lives in the house with his reputed wife and son said he would generally keep away from discussing the killings as he does not want to raise the barely hidden pain. What he knows though is that the memories will always remain.
Paro lives between the Thomases and the Mohameds and hers was one of the houses that were skipped during the shooting spree. She told Stabroek News that she misses the Thomas and Seecharan children dearly. They used to break the monotony of being home alone while her husband was away at work. She still questions why it happened, but knows that since that has not been answered in a year, it probably never will be.
Paro recalled the morning of the attack when she and her husband were awakened by rapid gunfire. She recounted hearing Mohandai Gourdat and her two sons screaming for her husband but he could not have gone to their rescue.
She remembered how they had remained absolutely still in their bedroom and only ventured outside when there was no more gunfire. They had jumped down from the landing refusing to use the stairs and moved stealthily across to the Thomas residence with the intention of hiding there in case the gunmen came back; but only to come face to face with the carnage. Paro remembered that they had then left there and run to the front area and started calling for people, who came out to render assistance.
The deaths of some of Guyana's most wanted have brought relief to some, while others say it does not make a difference. As one villager put it, "how we know who did this… and if they really dead or alive?"
Although they try to go about life as normally as possible; there is still a little skittishness. As Gomattie said her family does not stay out late. Zulika Baksh said that she jumps at every sound; if a vehicle revs at night she is nervous and squibs and even gunshots in movies make her nervy.
In the meantime the community members embrace each other and have formed an even tighter bond than they had before.