A 53-year-old Greek national was yesterday morning discovered dead with a gunshot wound to the head, suspected to be self-inflicted, moments after his wife left their Annandale home following an argument.
Dead is Vlachakis Zacharias of 123-124 Ramsingh Street, Annandale North who owned a large livestock farm in the Mahaica Creek area and also operated a fast food outlet next door to his house.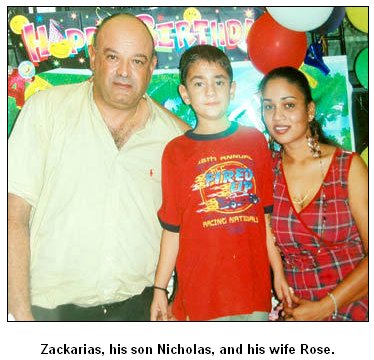 According to reports reaching Stabroek News, around 5:40 am, Zacharias and his wife Rosemarie had an argument and there was a noise emanating from the house. Moments later the wife and her 9-year-old son left the area in a 4 x 4 vehicle. More noise was heard followed by a gunshot.
When this newspaper arrived in the area residents were unaware of the incident and many expressed concern that the man would have ended his life in such a manner.
One resident recalled that she heard what sounded like someone hitting glass minutes to six yesterday morning and upon inquiry she noticed the man's wife going to her brother's house located at the back of her home.
The resident stated that while the two were having a conversation, Zacharias, who is popularly known as Harris, was heard quarrelling but what he was saying was not clear.
Shortly after that she said the woman was seen leaving the premises accompanied by her son while her brother was seen entering her home.
Just before she left, this newspaper was told that the woman's cousin who worked in the fast food outlet arrived.
The wife, the resident said returned some twenty minutes later with a vanload of policemen and the cousin ran outside and said something to the woman causing her to collapse.
Stabroek News was told that when the man was found, he was sitting in his office with his hands to his side and the gun in his lap. Rosemarie's brother was later taken to the police station for questioning.
The couple according to reports had moved to the city after living in the East Coast Demerara village for several years. They returned about a month ago and opened the fast food outlet.
At the home, the wife was hysterical and had to be comforted by relatives. Relatives and friends who were gathered were clueless as to what might have led to the incident. Many described Zacharias as a very "polite and free handed" man.
In an interview with Stabroek News in May of 2007, Zacharias said he had invested in 225 acres of land for a "multi farm" in the creek seven years ago. He said after being affected by severe flooding in 2005 he spent a lot of money to build up 100 acres of his land.
The man who reared chickens and pigs among other livestock said at the time he was using a lot of diesel to pump water off his land daily. The man was also in the process of preparing a fish farm to rear "Sweet Water Packoo."
According to him in 2005 the flood killed 7,000 fruit trees and all of his livestock. He pointed out that during that flood he provided free transportation to deliver food hampers and other help to residents.
But he was disappointed that when government provided machinery to assist farmers in the area to build their embankment, the contractors did not see it fit to help him out as well. He said the machinery was close to his farm and even though he asked for help he did not get any.
Zacharias had said that he loved the Mahaica and would continue to develop it and provide employment to residents.