Wife, brother-in-law held in shooting of Greek businessman
By Michel Outridge

Greek-farmer-apparent-suicide Kaieteur News Brighter-future Randall Butisingh Learning-environments-hinderland
Police find Greek businessman committed suicide

A woman and her brother are in police custody following the shooting of her husband, Greek businessman Mahaikis Blabvlacharakis Zackarias, called "Harris", 52, of 123 Ramsingh Street, Annandale, East Coast Demerara, early yesterday morning.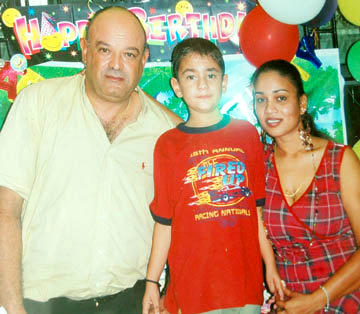 Zackarias, his son Nicholas, and his wife Rose.

The owner of Nicholas Fast Food and Water Depot was discovered with a gunshot wound to the temple slumped in a sofa in the lower flat of his two storey house.

Indian diamond buyer's murder… Iranian - Mohammad Ebrahimi was executed
Wedding-Ravi-Gaitree Roger Khan Snatchers Teenager-Boodram-hangs-himself

His licensed gun, a .32 pistol, was found in his lap. At the time of the incident, he was at home with his wife's brother, Ravi, while she was out with their 10-year-old son, Nicholas.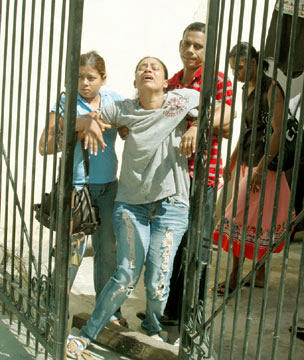 Zackarias' wife, Rose being assisted yesterday.
The wife, the resident said returned some twenty minutes later with a vanload of policemen and the cousin ran outside and said something to the woman causing her to collapse
Neighbours said that about 05:40h they heard the sound of glass breaking and some other noises, then they saw the businessman's wife, Rose, come out the yard with her son and leave in a vehicle.

The woman was visibly upset and grumbling to herself at the time.

Neighbours added that her brother was inside the house with the businessman when they heard what sounded like a gunshot, and soon after the wife returned with the police.

She and her brother were taken into custody.

The businessman, who runs a restaurant in Annandale, also operates a farm on the lower East Coast and previously had a meat centre at the same location before he closed down and moved to Atlantic Gardens, also on the East Coast Demerara.
Zackarias had been living here for more than 12 years.

The man was described as a fun-loving neighbour and many friends were present yesterday when his body was taken from the house to a hearse.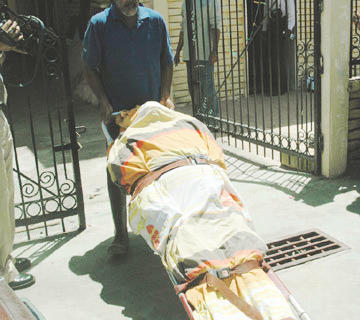 The body being placed in a hearse yesterday
(Photos by Cullen Bess-Nelson)

"I was at the restaurant Monday night and we had a drink together and he was normal; so when I heard he was dead I was so sad," a friend explained.

Zackarias was well-known for his generosity to everyone.

Wednesday, August 19, 2009