A father and son were forced to carry their own possessions for bandits who raided their West Coast Berbice home on Tuesday evening. The bandits, one of whom was masked with a black stocking, were armed with rifles.
Rifles
The police in a release said they have since launched an investigation. Twenty-five-year-old, Badesh Molaha of Number 10 village told Stabroek News yesterday that he and his father Ganga Molaha, 46, were fast asleep in their two-storey house around 8 pm when the bandits invaded. Badesh, who is also a Senior Laboratory Technician at the Blairmont Estate, said he was in his bedroom when he heard a voice saying, "Where is the money and the gold?"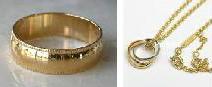 The young man said he immediately opened his eyes to find a bright light flashed into them. The masked bandit pulled Badesh up from his bed and pointed a rifle to his head. He eventually opened his wardrobe and handed over four gold chains, two gold rings and two gold bands along with $9,500 and his wallet. According to Badesh, no sooner had he handed over the jewellery that he saw the second thief shoving his father into the room. There they threatened the father while asking for more cash. Badesh strongly denied having any more and the bandits began to beat him and his father. "They started to beat us lashing me on me hip and threaten again to kill me." He said he offered them his CD player and even wrapped it up for them. The second bandit searched the other rooms and gathered up a quantity of clothing and raw cloth. The bandits carried their victims downstairs where they unplugged a video cassette re-winder and a VCR along with Badesh's cellular phone and added these to their loot. They then switched off all the lights and marched the father and son to Woodley Park Village. Badesh said the bandits commanded him and his father to fetch the loot. At Woodley Park, Ganga Molaha was admonished by the bandits to desist from drinking rum or else his head would be blown off. He said they then fired a shot and told them to return home. The police later visited the home and took a statement and promised to investigate the matter. Up to press time yesterday no one was arrested. Badesh said it was the first time they had been robbed and recalled that the last robbery to have occurred in the village was some three years ago. Over recent months there has been an increase in criminal activity in Berbice. Last Friday evening armed bandits robbed and shot a West Coast Berbice shop owner, Rafeek Esau Hassain of Bath Housing Scheme. The bandits made off with over $1M in cash and jewellery.
2004-06-17