Fishing boats hijacked, fishermen stranded in Suriname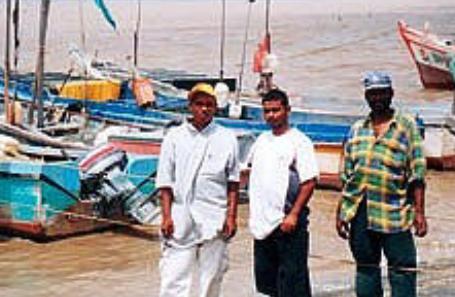 USUAL BERTH: other fishermen yesterday at the Annandale Sand Reef where the boats are usually moored.
(Cullen Bess-Nelson photo)



RELATIVES and others were last night finalising arrangements to travel to Suriname to pick up 12 fishermen from Annandale, East Coast Demerara, who were attacked and robbed by pirates while fishing in the Atlantic Ocean.

It was not immediately clear how the fishermen, who were working on three vessels, ended up in Suriname.

Owner of the three boats, Baby Kurmiah, also of Annandale, said she yesterday morning received phone calls telling her that the vessels had been hijacked and that the crews were in Suriname.

The missing boats are the Ramkumar, Ronita 1 and Ronita 3.

Kurmiah said that around 06:00 h, she got a telephone call from captain of the Ronita 1, Tony, who informed her that they were in Suriname and that their fishing vessel had been hijacked.

Four hours later, captain of the Ronita 3, Bunty, contacted her and gave the same story.

She said that crew members of the Ronita 1 informed her that their colleagues from the Ramkumar were "around", but that their vessel had been stripped also.

According to Kurmiah, although she was unable to ascertain how the men got to Suriname, it was clear that the two crews were in different parts of the country.

The three fishing vessels left shore Friday night and were expected back in two days, she said.

The owner said that unaware that her boats had been hijacked, she sent out a fourth vessel - Ronita 2 - yesterday morning to bring her neighbour's boat from Suriname after it too was hijacked two days ago.

Up to late yesterday, she had received no word from that boat.

Kurmiah said the boats are valued at $12M.

She said her son, owners of other fishing boats and relatives were last night preparing to sail to Suriname in search of the men. (SHAWNEL CUDJOE)

Wednesday, MARCH 23,2005