Former attorney-general of Guyana, Dr Fenton Ramsahoye has lambasted Guyanese politicians for bringing destruction to his country and he appealed to Trinidadians to resist the same thing happening there.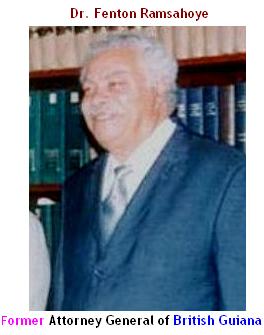 He also passionately urged Trinidadians to retain the Privy Council as the final Court of Appeal. Ramsahoye, a Queen's and Senior Counsel, was speaking at the Trinidad Maha Sabha Indian Arrival Day celebrations in Penal/ Debe, South Trinidad on Sunday.
Dr Ramsahoye charged that politicians were responsible for the destruction of Guyana and were immune to good advice. "Politicians have mismanaged the affairs of the country. It is not only the affairs of the Indian immigrants they have mismanaged. But they have mismanaged the affairs of those Christian people who were emancipated on August 1. They have mismanaged the affairs of the entire country.
"Guyana is twice the size of Scotland but it does not have the kind of living you have in Trinidad. It cannot even match the kind of living I see the islands. Everybody has a kind of standard of living better than that of Guyana," said Ramsahoye.
He told the large Indian gathering that Guyanese are surviving because of a US$300 million a year remittance which is sent by their brethren overseas, who managed to do well in foreign "free" countries. "That is how those who are left in Guyana are managing to survive."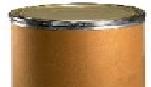 US$300 million a year remittance
Ramsahoye said misfortunes in Guyana had caused him and his two brothers to go into self exile. He said one of his brothers, the first descendant of an Indian immigrant to become a geophysicist at the Imperial College of Science and Technology in England, is in exile. Another one, who is in exile in Canada, was the first hydropower engineer that Guyana produced.
"He used to sit and design hydropower stations from the little waterfalls in Guyana, and when discrimination hit him, he went into exile and carried all his plans with him. Since then, he has built hydropower stations in Malaysia, Nepal, the North West Frontier, Pakistan and one country in the Caribbean, but in his own country it is very hard today to get a light."
Ramsahoye beseeched Indo-Trinidadians to save their country. "You have the qualities where you can stand up and fight and you can demand rights and get them. You can tell all the politicians that they hold your interest in trust.
Politicians are your trustees. They have no benefit to get from being in politics, but they are in politics to serve you. They must not make a mess of it. They are the trustees for you and everybody who walk this land. They must fulfil their trusteeship and everybody will move ahead."
He said ending appeals to the UK Privy Council (PC) was a prime determinant of the destruction of law in Guyana and he appealed to Trinidadian politicians not to end appeals to the PC.
The attorney, who went to study law in England at 20, was also honoured on Friday at the Holiday Inn in Port of Spain by the Maha Sabha. Present at the function were several politicians and political leaders from the Caribbean. The Maha Sabha honoured Dr. Ramsahoye for his contributions to Trinidad and Tobago and specifically towards the Indian population of the twin island republic. Dr. Ramsahoye, who turned 75 last week, practices law throughout the Caribbean and England before the Privy Council.
In attendance at Sunday's function were Prime Minster Patrick Manning and his wife Education Minister Hazel Manning.