'Eyewitness' fingers Coast Guard vessel in Essequibo River mishap
- afraid to come forward with information
Relatives of two men who perished in the boat mishap which occurred 10 days ago on the Essequibo River, are pleading with eyewitnesses to come forward with information, since a clandestine act is believed to have occurred.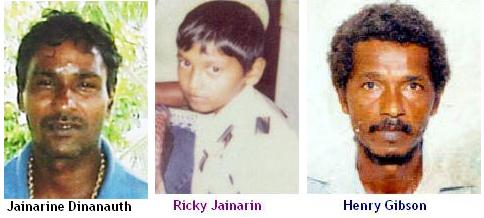 According to the relatives of Jainarine Dinanauth and Henry Gibson, they have been hearing from different sources that it was a Coast Guard vessel which was involved in the incident which left the two men dead and Dinanauth's 10-year-old son, Ricky Jainarain, missing.

Kaieteur News understands that an eyewitness has confided in other persons what exactly took place, but is fearful of going to the police with the information.
Relatives said they too are trying to locate the person who claimed to have actually witnessed the incident.
"De boy tell people wha' he see and de word getting around, but we ain't know is who is de person and de police tell we if we find de person then they could tek a statement and do de rest ah investigation," one family member said.


The eyewitness is also claiming that after the Coast Guard vessel struck the wooden boat, the individuals onboard stopped and helped themselves to valuables which were in the other boat and on the persons aboard the vessel before fleeing the scene.
Wooden boat

Meanwhile, search parties have failed to locate 10-year-old Ricky Jainarain.
According to relatives, they have searched along the Essequibo River where it is most likely that the body would float up but this has been to no avail.
"This is a miracle I know if somebody drown it does tek three days fuh dem to float up but we search almost everywhere we could and we ain't find he," a relative said.

Family members said that while it is possible that the lad may have drowned, they are a bit skeptical since they have failed to locate a body. It is believed that his body was left somewhere on land.

The family has published missing person advertisements in some sections of the media.
On Tuesday, August 11, last, a search party found a damaged wooden boat with the bodies of Jainarine Dinanauth, 45, of Zeelugt, East Bank Essequibo, and the boat captain, Henry Gibson, 46, of Hogg Island, Essequibo River, drifting in the vicinity of Hogg Island.

The bodies were discovered after Dinanauth's reputed wife had formed a search party, after not seeing the three persons arrive at Hogg Island at a specific time.
The trio had left the Parika Ferry stelling for Hogg Island sometime around 18:00 hours on Monday but failed to show up.

When the two bodies were found, a bag containing a substantial amount of cash was missing from the boat along with items of gold jewellery which Dinanauth was wearing.
The businessman's licence was however found in his pants pocket. Investigations are ongoing.
Friday, August 21, 2009