Armed bandits hit De Abreuís jewellery store

FIVE armed bandits yesterday morning carted off a quantity of diamond and gold jewellery worth $40M from the De Abreu Creations Jewellery Establishment located at E1/4 New Market Street, North Cummingsburg before making their escape in a gold coloured motor car.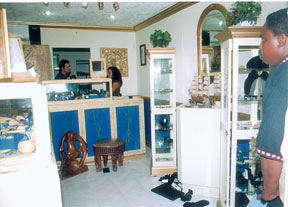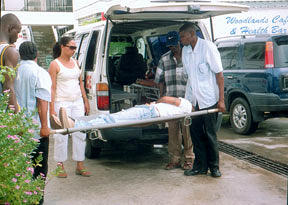 Left - The empty showcases at the De Abreu Creations Jewellery Establishment after yesterdayís attack by bandits. Right - Ricardo De Abreu who suffered head injuries being transported to hospital.
(Winston Oudkerk photograph)

Ricardo De Abreu, a relative of the storeís owner who was gun-butted and relieved of his .32 revolver, was taken away and is currently a patient at the Georgetown Public Hospital (GPH).
Police said that the bandits - four men, all armed with handguns and a woman - carried out the robbery around 10:45 h before fleeing in motor car with the licence plate HA 5498. The bandits reportedly spent about 25 minutes in the building.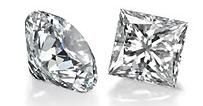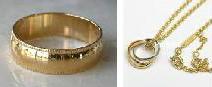 According to reports, the woman and two of her accomplices entered the store and began making enquiries about various pieces of jewellery.

Subsequently, the other two men entered the store and all four pulled out firearms and held the unarmed security guard, along with three female employees and De Abreu at gunpoint. They then emptied the showcases and escaped.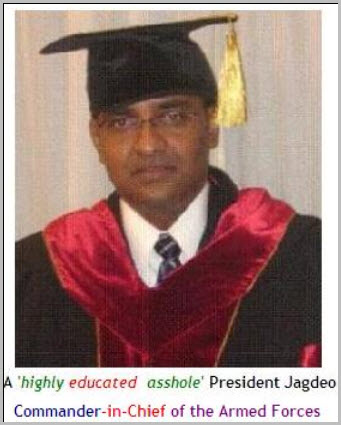 This newspaper understands that noise from the jewellery store attracted the attention of persons from Nalini Hairdressing Salon, which is located at 221 New Market Street. They called the police but reported that the numbers they called `rang outí. They then called the MMC Security who arrived in the scene.
Sunday, January 29, 2006