Christmas has come and gone most likely along with the one-month bonuses President Bharrat Jagdeo awarded to members of the joint services recently.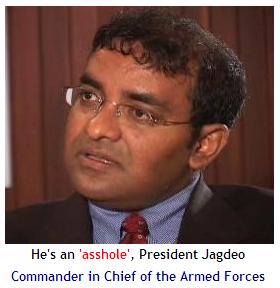 Yet the reputation of the joint services last year was not enhanced by a series of crimes committed by some of their members. Chief among these are the brutal slaying of gold dealer Dweive Kant Ramdass in August by Coastguards in the Essequibo River and the torturing of a 15-year-old boy and two other men by ranks at the Leonora Police Station in October. The latter case has not only left the three murder suspects scarred for life but the family and relatives of the murdered former regional vice-chairman Ramenauth Bisram still seeking justice.

Enmore lockups hanging
There have also been countless other instances where members of the police force and the army were taken before the court charged with robberies and other crimes.
While the Guyana Prison Service did not have as bad a year as 2008 during which several prisoners escaped; there was nothing exemplary about its performance either. And the Guyana Fire Service did not lose its reputation for arriving at a fire scene without water.
One hundred and eighty complaints
Commissioner of Police Henry Greene recently admitted that there had been an 11 per cent increase in the number of complaints forwarded to the Office of Professional Responsibility. The number soared to 180 complaints last year. And he revealed that some 62 members of the force were at present before the courts charged with various crimes, although he was quick to point out that these were just 62 out of over 3,000 ranks.
In the most recent case last Wednesday, Police Constable Colin Jonas and another man were charged with robbery with aggravation committed on businessman Ramesh Kalicharran of Crabwood Creek, Corentyne on December 23, 2009. He appeared in court before Magistrate Omeana Hamilton at Springlands and was placed on $300,000 bail.
But the major incident was the murder of Ramdass, which while committed by Coastguards, also ensnared members of the police force who used the opportunity to allegedly steal the booty taken from the dead Ramdass.
Three Coastguards, Sherwyn Harte, 26, of Lot 123 Block 'C' Eccles, East Bank Demerara; Delon Gordon, 21, of Lot 108 'C' Field, Sophia and Deon Greenidge, 20, of Lot 166 Middle Road, La Penitence were charged with the murder of Ramdass between August 20 and August 22 at Caiman Hole, East Bank Essequibo. The young Ramdass was on his way to Bartica with millions of dollars in a box to conduct business for his employer when he was taken off a boat he was in at Parika by three ranks in a Coastguard vessel. The vessel left with the man heading in the direction of Bartica and that was the last time he was seen alive. His body was later recovered after the army ranks confessed to his murder.
Then some of the police officers who were placed on the road to capture the relatives of the Coastguards who were ferrying the money allegedly ended up stealing some of the money. In the final analysis Cadet Officer Kevon Denny, 26, of Kitty and police constables Gordon James, 28, of Lot 80 Amelia's Ward, Linden and Leyland Fraser, 24, of Lot 1602 Kaluri Street, Ituni, all attached to the Leonora Police Station, were accused of taking $5.8 million from one Shawn Ageda, of which they reportedly stole $4.3 million. The money is said to be the property of Azeem Baksh. The trio appeared in court and pleaded not guilty to the charge of larceny by public officers.
What the commissioner neglected to mention was that his officers had been unable to solve some of the most serious crimes committed last year. Of note was the attack launched by gunmen on the Brickdam Police Station, the High Court and a school which also left a miner dead. The police issued wanted bulletins for several persons – most turned themselves in but were not charged.
There was also the case of the mysterious deaths of Jainarine Dinanauth and Henry Gibson who perished in the Essequibo River from what was initially reported as a boat accident. Dinanauth's 10-year-old son Ricky Jainarine has been missing since the August 11 incident.
Relatives and others members of the public had alleged that Coastguards were involved in the incident, noting that the soldiers' boat had been dry-docked for three days afterwards. The army had strongly denied the claims. But an investigation by the Maritime Administration Department (MARAD) found blue paint on the Coastguard vessel, suspected to have been involved in the Essequibo River incident. For months now, the police have been doing tests to determine the origin of the paint.
There had been reports that persons had seen what had occurred. One man, who reportedly said that he had seen the incident, was identified but he was afraid to come forward to law enforcement officials.
Leonora in the news
The year 2009 was not a good one for ranks at the Leonora Police Station. Mere months after some were charged with stealing Ramdass's money, others made the news over the torture of a 15-year-old boy and two other men while investigating the murder of Ramenauth Bisram.
While only three officers have been charged in the incidents, a report found that the horrific treatment and torture of the three was known by other police ranks but they were indifferent and complicit. Under investigation, some told lies and gave conflicting statements. Investigations resulted in Commander of the Division Paulette Morrison being removed from her position.
The report, done by the police Office of Professional Responsibility (OPR), outlined the events that occurred following the October 26 discovery of Bisram's mutilated body in his Canal Number Two, West Bank Demerara home. It revealed that after being taken into custody in relation to the murder, the teen was stripped and beaten before being burnt in his genital area. It also showed that ranks knew of the torture and one assisted in blindfolding the teen while another rank denied that he impersonated a doctor. The torture of the teen and others only came to light after a photograph of the child's mutilated genital area appeared on the front page of the Kaieteur News; it was only then that the child was taken to the hospital for medical treatment.
Two policemen – Sergeant Narine Lall and Constable Mohanram Dolai – eventually appeared in court accused of unlawfully and maliciously wounding the teen.
They were earlier charged with unlawfully and maliciously wounding Nouravie Wilfred and Deonarine Rafick, with intent to maim, disfigure, disable or cause them grievous bodily harm.

Madewini shootout
Early last month, an army corporal appeared in the Providence Magistrate's Court charged in connection with the attack on the GT&T cell site at Hauraruni, on the Linden-Soesdyke Highway and was remanded to prison.
Fred London denied the robbery under arms and unlawful possession of a shotgun and matching rounds charges when they were read to him by Magistrate Priya Sewnarine Beharry. The offences were committed on December 6.
Police had said that around 03:10 hrs on December 6 three armed men held up and robbed one female and two male security guards at the GT&T location at Hauraruni. The men tied them up, took away 23 five-gallon containers of diesel, $15,000 and a cell phone and escaped.
Later that morning, ranks of a mobile patrol at Madewini, observed what was suspected to be fuel leaking from the trunk of motor car PFF 1757. The car, police reported, was travelling in front of the patrol and was carrying three men. The police continued following the vehicle, which then suddenly stopped. One of the men exited and opened fire with a handgun on the police. Police immediately took cover and returned fire but the men managed to escape. A search was subsequently conducted on the abandoned car and 23 plastic containers containing dieseline, a 12-gauge shotgun with four cartridges, a pair of gloves and a camouflage hat and poncho were found. The army corporal later went to the Madewini Police Outpost and reported the car used in the incident as having been stolen and was arrested.
Shortly before that another army rank was hauled before the court. Lance Corporal Oslin Phillips of Aurora, Essequibo Coast and two men were charged with robbing 55-year-old Clairmonte Scott at his Lima, Essequibo home. According to a police press release, Phillips was charged with attempting to escape from lawful custody, resisting arrest, assaulting a peace officer and entering a dwelling house in the night with intent to commit a felony. Reports are that Scott was at his Lima, Essequibo Coast home with his front door open when three armed men — two masked while the third wore a toque — entered. They tied up the man and took him inside but an alarm was raised and they escaped and were later apprehended by the police.
Indecent assault
In November, Police Constable Gavin Holder was remanded to prison over allegedly indecently assaulting a 15-year-old girl at a police station.
It is alleged that between October 17 and 23, at the Springlands Police Station, Corentyne, he indecently assaulted the teenage girl.
Holder was a traffic police officer at the Springlands Police Station where the teenage girl was placed after she was arrested when she was found wandering. Another policeman, Constable Gary Verwayne was also charged with indecently assaulting the same child at the said station. In that same month an ex-police officer was denied bail when he appeared before Acting Chief Magistrate Melissa Robertson to answer to the charge of attempted rape and indecent assault.
Lennox King, 36, of Lamaha Park, Georgetown allegedly attempted to rape a woman in November. It is also alleged that on November 6 in Georgetown King indecently assaulted the same woman. King was a serving member of the force at the time of the incidents but was dismissed following the allegation. The attempted rape occurred at the Police Communications Office while the assault occurred at a building on Church Street. King and the woman were friends but King allegedly took things for granted because of that friendship.
Gunpoint robbery
In May, a policeman and a merchant were accused of robbing another man at gunpoint of a motor van and several other items totalling over $8 million and were both remanded to prison.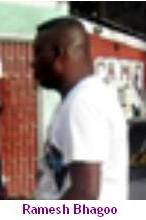 The policeman, Andrew Mingo, 26, of 154 First Street, Herstelling, East Bank Demerara and the merchant, Troy Ogle, 34, of 86 Sideline Dam, Beterverwagting, East Coast Demerara allegedly used a gun on May 9, 2009 to rob Ramesh Bhagoo of a Rav 4 vehicle valued $1.9 million, $5 million in gold and diamond jewellery and $1.4 million in cash, totalling $8.3 million.
In February, policeman Brian Mendonza of 244 Meadowbrook Gardens pleaded not guilty to the charge of demanding money by menace with intent to steal it.
It was alleged that on November 24 last year Mendonza, with menace demanded $70,000 from Randy Samaroo with intent to steal it. On the day in question Mendonza and three other police ranks were conducting a stop and search exercise when they stopped Samaroo, who was driving his brother's car, and searched the vehicle. Mendonza had had a problem with Samaroo in the past and Samaroo had offered to pay $10,000 to be set free. Mendonza told Samaroo the money he had offered was not sufficient and Samaroo handed over $70,000 to Mendonza. But later that day Samaroo went to the police station where he made a report about the incident.
In that same month, two policemen were jointly charged with demanding bribes from members of the public.
Constable Bryan Peters and Corporal Robert Semple pleaded not guilty after being charged jointly with demanding money with menace when they appeared before Acting Chief Magistrate Melissa Robertson. Peters was further charged with simple larceny and common assault, to which he also pleaded not guilty. Peters, 32, of 103 Croal Street, Stabroek, was a member of the police force for 14 years. Semple, 54, a father of 13, who resides at Hopetown Village, West Coast Berbice, had been in the force for 33 years.
It was alleged that on May 6, 2008 at Sherima Police Station, Bartica, Peters and Semple demanded money from Lindomar DeBaras with menace with intent to steal same. DeBaras and her husband are Brazilians and were intercepted by Peters on their way into Guyana at the Guyana/Brazil border. He and Semple subsequently demanded money from the couple who later reported the incident.
Also in February, two Tactical Services Unit (TSU) constables Kelon Jack, 23, of 26 Plantain Walk West Bank Demerara and Dennis Raphael, 22, were charged with demanding $12,000 from David Persaud in order for him to avoid prosecution for drug trafficking.
Minutes after they answered their charge, a quartet of policemen, also attached to the TSU, was charged over a separate incident. Corporal Tyron Edwards, 38; Constable John Blake, 24; Constable Carl Ifill, 40, and Constable Jason O'Donogue, 23, denied the charge of demanding money with menace.
It was alleged that they demanded the sum of $500,000 for protecting Gavin Shepherd from a drug trafficking charge.
It was in February also that a police detective attached to the Criminal Investigation Department (CID) was charged with corrupt transaction. It is alleged that on February 22, 27-year-old Kevin McRae of Vigilance Public Road, East Coast Demerara, corruptly accepted and converted to his own use the sum of $50,000 from Gregson Nichols in order that Nichols may avoid the charges of carnal knowledge and buggery.
Allowing persons to escape
The only prison officer facing the court last year was Ashanti McAllister. She was charged in October with negligently allowing persons in custody to escape.
The charge followed an incident at the New Amsterdam Prison on November 15, 2008 when Samuel Fraser, Rocky Profit, Karim Charles and Lindon Flavious escaped from the facility after using a hacksaw blade which had been concealed in a pair of rubber slippers, to saw through cell bars.
In October also, GDF Lance Corporal Delroy Mitchell was remanded to prison after he was involved in the motor accident at Amelia's Ward, Linden in May that claimed the life of a woman who was riding a motorcycle. The 24-year-old of Third Street, Alberttown pleaded not guilty to the charge of causing death by dangerous driving when he appeared at the Georgetown Magistrate's Court.
He denied that on May 22, at Amelia's Ward Public Road, Linden, he drove Guyana Defence Force motor pickup, DFB 1469 in a manner dangerous to the public, resulting in an accident that caused the death of 38-year-old Enid Sharpe.