The two special constables, who were held at Adventure, Essequibo Coast earlier this week in connection with the disappearance of a car, which murdered taxi driver Martin Conelly had been driving, were yesterday remanded to prison by Acting Chief Magistrate Cecil Sullivan.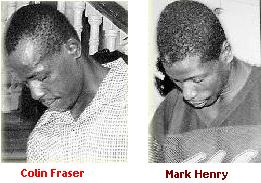 An arrest warrant was also issued for their alleged accomplice. Colin Fraser, 25, of 24 James Street, Albousytown and Mark Henry, 32, of Lot 86 La Penitence Street, Albousytown were not required to plead to the indictable charge of simple larceny.
The two accused between June 21 and 24 allegedly stole one Toyota AT192 motorcar valued $2.9M, property of Rasheed Haniff. Meanwhile, the magistrate has issued an arrest warrant for Gawreshram Pooran, called `Ravi'.
Police alleged that the car was contracted to the Vegas Taxi Service and was driven by Conelly. After Conelly's battered body was discovered in the cemetery the car was reported missing by Haniff.
Acting on information ranks went to a house at Adventure, Essequibo and found the car. Another car also discovered at the said location was suspected to have been hijacked and used in a robbery. The matter continues on July 28.

Constables charged with stealing murder-linked car
TWO Police Special Constables, suspected of having stolen a car that was driven by a taxi driver who was murdered, have been charged with the theft.

Colin Fraser, 25, of Lot 24 James Street, Albouystown and Mark Henry, 27, of Lot 86 La Penitence, both Georgetown addresses, appeared before acting Chief Magistrate Cecil Sullivan yesterday.

They are on a joint indictable charge with Ganeshram Pooran, for whom an arrest warrant was issued.

Particulars of the offence said the three are jointly charged with stealing the $2.9 million vehicle, belonging to Rasheed Haniff, between June 21 and 27.

Fraser and Henry were both refused bail and remanded to prison until July 28.

The dead body of Martin Connelly, an employee of Vegas Taxi Service in Joseph Pollydore Street, Lodge, was found in a trench on the fringe of Le Repentir Cemetery, also in the city, on June 22.

Police Inspector Kevin Adonis, prosecuting, said the larceny of the car was reported after the murder and cops, acting on information received, recovered it at Adventure on Essequibo Coast.

Reports said investigating detectives, who also seized another vehicle and parts, believe they have busted a car stealing gang.
Saturday, July 02, 2005