Three GDF Coast Guards charged with Ramdass murder
- Alleged accomplices charged with accessory after the fact
By Telesha Persaud

THE three
Guyana Defence Force (GDF) Coast Guards who were slapped with a murder charge
yesterday appeared before Magistrate Judy Latchman at Vreed-en-Hoop, West Coast Demerara.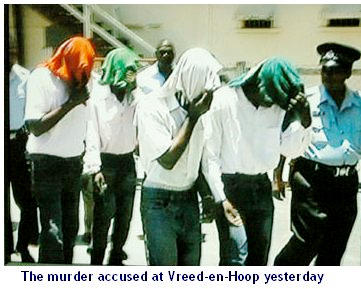 With them were their three alleged accomplices who were charged with 'accessory after the fact of murder.'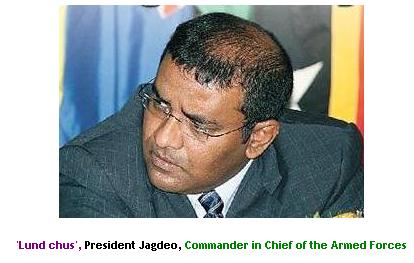 The GDF soldiers, Sherwin Hart, 24, of 123 Eccles, East Bank Demerara; Deon Greenidge, 20, of 166 Middle Road, La Penitence; and Devon Gordon, 21, of 108 'C' Field, Sophia, Greater Georgetown, were not required to plead to the capital offence.
Particulars of the charge said, on August 20, at Bonasika Creek, Essequibo River, they murdered Dweive Kant Ramdass.

The other accused, Shawn Ajeda, 22, of 123 Block 'C' Eccles; Viola Adolphus, 32, of 108 'C' Field, Sophia; and Yvonne Beckles, 49, of 166 Middle Road, La Penitence, were also not required to plead to a joint charge.

It is alleged that, on August 20, they received, relieved, comforted, harboured, assisted and maintained Hart, Greenidge and Gordon who were wanted by Police in connection with the murder of Ramdass.

Attorney-at-law Mr. Hukumchand appeared for Adolphus and made a failed bail application for her.

Magistrate Latchman remanded all six accused and the case was transferred to Leonora Magistrate's court for September 24.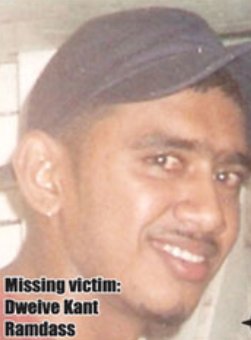 Ramdass is the victim of a robbery by the three GDF soldiers who have since confessed to his murder.

The two Privates and a Lance Corporal who were manning the Coast Guard RC 12 motor boat in the Essequibo River, made off with $17M in cash which Ramdass was carrying in a box to Bartica for his employer, Baksh, who is based in the city and operates a gold and diamond business.

Ramdass-laid-to-rest Nadira_Khan Robber-Heywood-killed
\

The three soldiers told investigators shortly after their arrest that they strangled Ramdass, took the money he was carrying and threw his body overboard in the vicinity of Bonasika Creek.

Ramdass, 24, of 95 Third Avenue, Bartica, realised he was in danger and attempted to solicit help by using his cellular phone. He was however prevented from doing so by the killers.

The GDF members took away Ramdass in their boat, relieved him of the cash, murdered him and returned to the Parika Stelling, where one of their female accomplices was waiting for them.

She is the sister of one of the officers and was given $5.7M in cash to hold.

According to reports, another portion of the money was recovered by the police during a roadblock exercise.

The three soldiers reportedly split the money in three after they killed Ramdass.

The GDF said it condemns in the strongest possible terms the criminal action of its Coast Guards stationed at Fort Island.

"It is reprehensible and will be met with the full force of the law. At present the ranks implicated are in Police custody," a GDF press statement said.

It added that it is clear from initial reports that there was a breakdown in the command and leadership structure at this unit, for which strong administrative action will be taken.

The GDF said it wishes to assure citizens, the fishing community, fishermen, small boat and other vessel operators that the Defence Force subscribes to the highest of professional standards and will continue to discharge its mandate notwithstanding this unsavory incident.
Tuesday, August 25, 2009