Businessman robbed of US$$, local currency in midday heist
Two bandits yesterday held businessman Charles Sarjoo at gunpoint and robbed him of a substantial amount of local and foreign currency.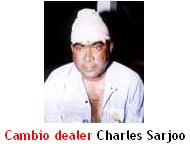 The incident occurred at Sarjoo's Friendship, East Bank Demerara, property and the bandits carted off US$6, 000 and G$200,000. The businessman and his nephew Anthony Sarjoo were held at gunpoint around 12:45 hours by the bandits, one of whom was armed with a pump action shotgun.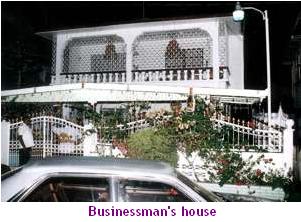 The bandits who were apparently staking out the businessman's house launched their attack just as he was about to discharge some goods from his car. The businessman's nephew who operates a bar at the bottom flat of the premises told Kaieteur News that he was helping his uncle discharge some goods from his car when the two men walked in. The men ordered two bottles of Guinness Stout and paid with a $500 bill.
"I give dem back $100 change and dey pull two chairs and sit down. I went out back fuh help me uncle and while coming back in with a box of goods, one of de men point a gun to me head and tell me drop de box. I seh 'oh God I dead'," Anthony Sarjoo related.
He said the men ordered him to lie on the ground.
Anthony Sarjoo said when the men realised that no money was in the box they pounced on his uncle who was still standing by his car. "I see dey grab he bag and like he and dem had a scuffle. De one with de gun crank it up and like he go fuh shoot. I holler out 'uncle give dem, give dem'" Anthony Sarjoo told this newspaper.
The 53-year old businessman, recalling his ordeal said that he was coming out of his car with a bag containing the cash when the men pointed a gun at him.



"One of them put the gun to my chest while the other one snatched the bag. They then ran through an alley and escaped," Charles Sarjoo said. The robbery was a bitter blow for Sarjoo who suffered a similar fate almost two years ago. And to add to the misery, Sarjoo, who is the brother of murdered cambio dealer Neville Sarjoo, lost his wife and son-in law within the past year. "Right now I don't have a cent, not even a savings. If the earth could open up now and swallow me, I would be glad," the businessman said.
He is now contemplating how to break the news to his children who reside overseas.
According to the businessman, the police came to the scene and took away the two Guinness bottles and the chairs in the hope that they will obtain fingerprints of the bandits. Investigations are continuing.
Saturday, September 18, 2004