Cabinet Outreach on the Corentyne Coast
Dear Editor,
Let's discuss the recent Cabinet Outreach 2010 which was carried out mainly on the Corentyne Coast.
I'd call it a 'Corentyne Outreach' because save for one or two meetings in the Canje area, the entire thing saw its focus being on this geographical area which is so crucial to the PPP especially since 2011 is fast approaching.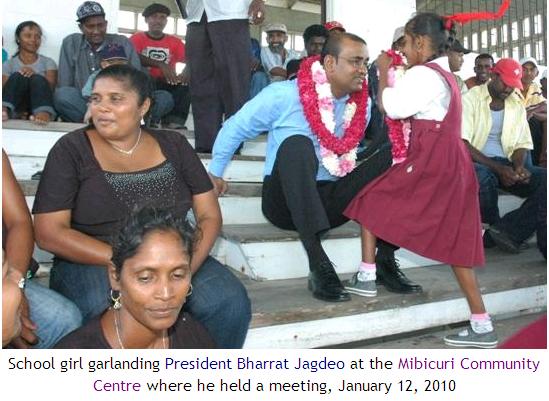 The Corentyne is very valued to this party for many reasons. One is that it is one of the main strongholds during elections time for the ruling party.
Because I do not want others to feel offended, I will not say the next reason why the government always runs to the Corentyne during these outreaches.
But the East Coast of Berbice Region is one of the largest administrative districts in the nation, covering the whole of the east of Guyana. With so many areas and communities lined through this region, it is mind boggling how the Cabinet team could've done their outreach in one day. Surely, this must have crossed their minds. Anyhow, the outreach was carried out on the Corentyne and two East Canje villages.

Letter writer Leon J. Suseran threatened

The President spent most of his time too on the Corentyne as all of his meetings (three of them) were held there, mostly on the upper Corentyne area. There was no press conference with the media. All the information the media drew from the outreach, was taken from speeches done at the various meetings.
Neither ministers nor the President could've been asked questions in a press conference, but rather some had been approached on the spot during the various community meetings. I applaud SN and Kaieteur News for the manner they covered this event, if you know what I mean.
So what did the President and government had to tell Berbicians? More promises were made of course. The rhetoric surrounding Berbice 'taking off' and hopes for the Skeldon Factory, among other issues we hear about over and over were poured out once more on the PPP strongholds.
So many issues were raised during the meetings. I wonder how many of them will actually be looked at and dealt with. I wonder when we will get feedback as to which matters were dealt with and actually see it being dealt with.
Does anyone know that the town of New Amsterdam and most East Bank Berbice areas were ignored during this Cabinet outreach? Would you look at that? I wonder why. Does anyone know, too, that there was a huge protest at Tain on the Corentyne by hire car and minibus drivers about the treatment by 'B' Division Police?
Does anyone know that the President and his entourage flew passed in their Prados without even turning an eye towards these honest hard-working men? We did not see these things on the State media. And we certainly won't see them on "Let's Talk Berbice", "Weekly Digest", and "The President's Diary". That is why we need more brave media houses in Guyana — those with the boldness to report the issues — the real issues!
And so, the Cabinet members along with the President left our region, I believe, late Tuesday evening to go back to Georgetown. Was it "mission accomplished" for them? Would the lives of Berbicians be any better off from this outreach? One thing's for sure; the numerous difficulties being faced by Berbicians, like water problems, housing issues, salary problems, estate workers grievances, excessive use of power by various authorities, poverty, and blackouts are all here to stay. Mr. Jagdeo, on the other hand, is not; 'Pressy' gone off to another international trip.
Leon Suseran
Friday, January 15, 2010