Government moves to ensure security of East Coast residents
-- new measures to curb movement of marauding gangs into villages around Buxton
By Chamanlall Naipaul
HEAD of the Presidential Secretariat, Dr. Roger Luncheon told reporters yesterday that steps taken by the Government in relation to national security were noted by Cabinet, and that further efforts to secure the residents in communities neighbouring Buxton were reviewed.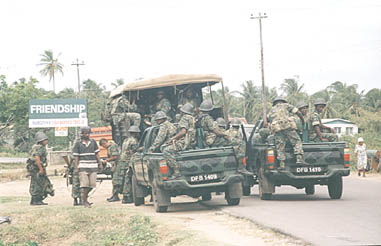 SOLDIERS on the East Coast yesterday

Barricades put up on bridges on Buxton embankment road
THE Ministry of Public Works and Communications, with assistance from the Army, has erected steel barricades across two bridges along the Railway Embankment road in the troubled and violence-prone area of Buxton, East Coast Demerara.


The barricades, which were put up on Tuesday afternoon on the bridges at the Buxton Side Line Dam and at Brusche Dam, along the Embankment road, are aimed at preventing criminals using vehicles from having a clear way in fleeing into Buxton after committing robberies, officials explained.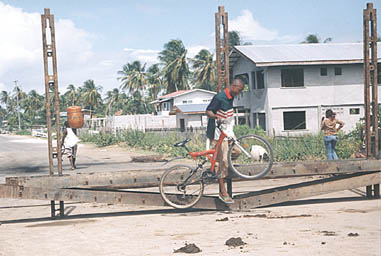 BARRICADE: the steel barricades in place on the bridge at the Buxton Side Line dam, which separates the villages of Buxton and Annandale.


Law enforcement officials have said that Buxton is a safe haven for criminals and vehicles passing through the village have been attacked and robbed.

"We want to know what's the purpose of this thing, because this ain't mek sense," one Buxtonian said yesterday.