- - six persons arrested
A 37-year-old father of three was yesterday found dead in his Bloomfield, Corentyne village days after he went missing subsequent to attending a religious function.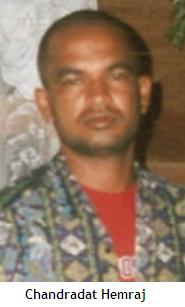 The bloated body of Chandradat Hemraj also known as 'Fry Fish' of Third Street, Bloomfield, Corentyne Berbice, was found face down in a ditch located in a yard with an abandoned house.
His body, which was semi-nude as he had on no shirt and his pants and briefs were around his knees, was discovered following a frantic search by villagers after he failed to return home since Saturday.

Body found at #78 Village foreshore
The police have since arrested six persons, four males and two females, from the area as there were visible marks of violence on the man's bloated body. A relative told Stabroek News that it was also evident that the man had been sodomised with an object.
The man's sister, Chandrapattie Singh called 'Gallsy', told Stabroek News yesterday that she last saw her brother around 7 am on Saturday when he left to attend a religious function a few villages away. She said when he did not return on Saturday night, she was not worried because he sometimes stayed out. It was after he did not return on Monday that she alerted villagers and started searching for him. She said residents of the village, Letter Kenny, where he attended the religious function recalled seeing him until around 7 pm on Saturday.
She was not at the scene when the gruesome discovery of her brother's body was made and she said she was just concentrating on ensuring that her brother receives a decent funeral.
Another relative, Pertab Singh, told Stabroek News that he had received information that Hemraj had returned to Bloomfield but instead of going home he stopped at a birthday celebration a few houses from where he lived.
It was while he was there he was asked by two other men to purchase some cigarettes and he was given a bicycle and $1,000 to run the errand. He never returned. It believed that at least two of the persons arrested by the police might have attacked the man and beaten him to death, sexually assaulting him in the process, and stealing the $1,000. The men are said to be known cocaine users in the area.
According to Pertab Singh, it was obvious that the man was beaten "mercilessly" as blood was evident in the yard and from all indications he was dragged and thrown into the ditch as they was a bloody trail leading to where his body was found.
Hemraj was described as a man who was very quiet and who never troubled anyone. "Even the littlest child could talk to he and he would hear," Pertab Singh said.
He said he was mentally challenged and never had a steady job but would do odd jobs around the neighbourhood.
Hemraj was married with three children, two girls and one boy, but had been separated from his wife for several years.
Meanwhile, relatives lamented the fact that they had to pay $30,000 to remove the man's body as the police officers on the scene stated that they had no one to remove the body. Reports are that the regular undertaker refused to remove the body because of its decomposed state and while the body was found at around 8 am yesterday, it was not removed until 1 pm. It is expected that a post-mortem examination would be performed on the man's body today.