Body found at #78 Village foreshore
Businessman abducted in Suriname waters…
NUMBER SEVENTY-EIGHT FORESHORE, CORENTYNE – Masked gunmen murdered Corentyne businessman Fazal Hoosein and dumped his corpse in the Corentyne River, after snatching him from a vessel that was returning from Suriname on Wednesday.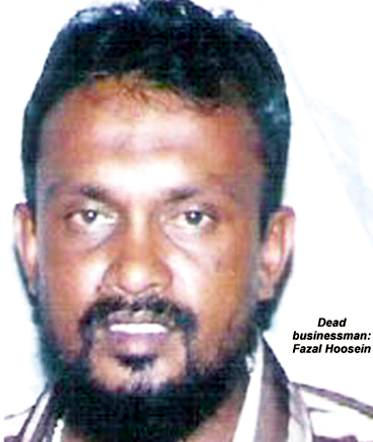 Hoosein's bound body was found yesterday near the Number 78 foreshore, just a day after five heavily armed gunmen abducted him.
A relative said that the corpse was entangled in a seine and that Hoosein's hands and legs were bound. There were also marks of violence on his upper body.
Roopnarine_dead Crabwood-Creek-home Rampoor-Sett-Bandits Harrynarine Persaud Woman-shot
Hoosein, of Number 79 Village, Corentyne, was the father of six. He traveled often to Suriname on
business
.
Police suspect that robbery was the motive since they have received reports that Hoosein was returning from Suriname with a large sum of
money
that he had collected from a businessman in the Dutch-Speaking territory.
According to reports, Hoosein and nine other passengers were returning from Suriname at around 17:45 hrs when five masked men, bearing high-powered rifles and handguns, approached them in another boat.
The gunmen reportedly fired four rounds in the air and ordered the passengers to lie flat in their vessel.
A high-powered rifle
After relieving the passengers of their mobile phones, the gunmen ordered Hoosein to climb abroad their vessel, took away the spark plug lead for the other boat, and sped away with their captive.
The group was rescued moments later by another speed boat operator and transported to the Number Seventy-eight Village Foreshore.
According to police reports, about 19:00 hours on Wednesday, the man's son, 17-year old Fareez Hoosein, informed ranks at the Skeldon Police Station that he had received
word
that his father had been abducted.
About 16:20 hours yesterday, a group of fishermen spotted a body floating about four miles east of the Number 78 foreshore, a short distance from the Suriname foreshore.
The corpse was taken to the wharf of the Number Sixty-six Fish Port Complex and handed over to the police.
Soon after, the victim's son, Fareez Hoosein, identified the corpse as that of his father. The body was later taken to the Skeldon Hospital morgue
Azad Hoosein, brother of the slain man, told Kaieteur
News
that his sibling left for Suriname around 06:00 hrs on Wednesday.
Mr. Hoosein said that they received word of his brother's abduction from his sibling's brother-in-law, who lives in Suriname.
Around 14:30 hrs yesterday, relatives learnt that Hoosein's body had been found.
Female police officer Security-reform-aid Bodies-Essequibo

The autopsy is to be performed shortly.
Up to late last night police were questioning the other passengers.
Friday, June 05, 2009