-collect
In a chilling attack, six masked bandits, armed with guns and a cutlass, took hostages on Sunday as they made their getaway after robbing a Corenytne family of over $1.5M in cash, jewellery and other articles.
The men abducted Simon Pallingum, 18, a neighbour who was visiting the family when the bandits struck at Lot 448 Number One Road, Corentyne at around 7:30 pm on Sunday. They took him to the seashore while making their getaway on foot. He was robbed of a silver band and a cellular phone.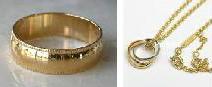 They also caught up with four fishermen along the way and abducted them as well and demanded that they [fishermen] fetch the booty. When the men reached the Rose Hall area they instructed their captives to put down the articles and "run fuh yuh lives!" The bandits had stripped the family of $552,000, US$500, three cell phones, a quantity of jewellery valued $775,000, a CD player and other musical equipment. They used shopping bags from the house to carry the loot.

Police said last evening that they were investigating the robbery. They reported that during the escape by the bandits, they held the four fishermen, ordering them to run at the Kilcoy koker while discharging a round in the process.
Budnarine Surattan, 52, told Stabroek News that his wife, Devika Surattan, 44, son Devindra 'Sunil' Surattan, 27, his five-year-old grandson Nigel along with Pallingum were sitting outside when the bandits entered and ordered them into the house. He said they placed them to lie on the floor and tied his son's hands behind his back. They then beat his wife severely about her head and body with the gun butt as they ransacked the one-flat house. The woman had to be taken to the doctor for treatment.
Surattan said Devindra had just gotten into the house after going out to purchase Chinese food and had left his jewellery, cell phones and a small amount of cash on the table and the bandits removed them.
Surattan, a spray painter and owner of two minibuses, was not at home at the time but returned at around 8:00 pm not realizing that bandits were invading his house. As he pushed open the door to enter he was given a rude welcome with a gun pointed to his head. The men also ordered him to lie on the floor and tied his hands behind his back. They then relieved him of $42,000 that was in his pocket, a gold chain and a cellular phone. "Me bin at a lost at first; me din expect all a dat was going on in meh house," the man said. As he was on the floor the men noticed his pair of Timberland boots that he was wearing for the second time and one of them told another to "get that!"
He said he begged the bandits to untie his hands but first had to promise them that he would not "scream." They also told him that if he made any noise they would shoot him and Pallingum. He said they also "run through" his driver's license that contained a small amount of cash to pay for a "ticket" and he pleaded with them not to take the document and they did not.
According to Surattan, the bandits asked him to "hand over yuh gun" but he told them that he did not know how to "crank a gun much less to own one."
He said although the men threatened to kill them no shots were fired and the neighbours were not aware that bandits were in the area. He said after the bandits left he alerted the neighbours.
His son went to the Albion Police Station to make a report and ranks immediately assisted in searching for Pallingum and the bandits. While he is distressing his loss, Surattan said "thank God that the bandits did not shoot or chop abe." Police sources told this newspaper that they are still on the hunt for the bandits.