Factory owner worried after second failed attack

Owner of Kishan's Aluminum Window Factory, at Lot 27-28 Courbane Park, East Coast Demerara, Mr Sarwanwant Kishan is very worried that someone wants to destroy his plant because of the stiff competition it offers.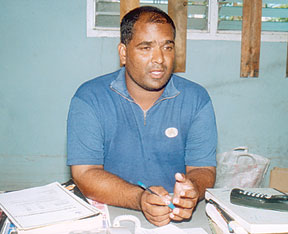 WORRIED: Sarwanwant Kishan in his office yesterday
The 36-year-old businessman said so yesterday following a second failed grenade attack on the premises.

A second failed grenade attack

The mini-fragmentation bomb did not explode Monday night but, if it did, his employees might also have been killed, Kishan told the Guyana Chronicle yesterday.

He said he was not present when the discovery was made but staff members told him that, when they arrived for work, they found the grenade in the building where windows are manufactured.

Kishan said the pin was missing and the explosive appeared to be old and corrosion could have been the reason it did not detonate before Police took it away.

He said neighbours reported seeing four men, who disembarked a motor car, lurking in front of the place on Monday night.

Kishan said it was the second time a grenade was set to go off there after a first attempt two weeks ago.
On the previous occasion, the explosive was found in the compound between a bond and the factory and Police were summoned then, too.
Kishan said the persons responsible for the Monday night incident fired several gunshots, probably to scare his four vicious Doberman dogs.

He said he will be implementing new security measures and armed guards would be on duty in an effort to prevent a recurrence at his three-year-old enterprise.

Kishan said the Monday night occurrence was "very strange" because he does not have problems with anyone and operates "a crystal clear business."

Police who defused it said Kishan's employees spotted the grenade amongst some louvre window frames they were packing on Tuesday morning.
Thursday, November 24, 2005