After killing of fourth cop--
Gajraj tasked with tighter security at Police stations


By Mark Ramotar


SHOT dead: Police Constable Andy Atwell

CABINET has tasked Minister of Home Affairs Mr. Ronald Gajraj with ensuring heightened security at Police stations and outposts countrywide following the armed assault on the Alberttown, Georgetown Police Station Thursday night. One Policeman was killed and another injured in that attack.
Police Constable Andy Atwell was killed in a most despicable and heinous way shortly after 22:00 hours Thursday, when gunmen armed with high-powered weapons drove up outside the Alberttown Police
Station in a `movie-like scenario' and opened a hail of gunfire, gunning down the Policeman, injuring another on duty and riddling the building with bullet holes.
A Police statement issued yesterday morning said the gunmen drove up in two motorcars, one was in front of the station on Fourth Street and the other on Albert Street. They reportedly "blazed away at the Station from both sides".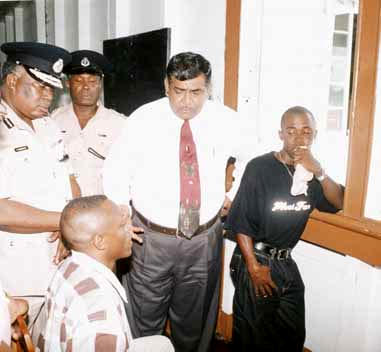 Minister of Home Affairs, Ronald Gajraj (second from right) offers words of comfort to two distraught siblings, Forbes (seated) and another at extreme right, of the late Police Constable Andy Atwell. With the Minister are (from left) Acting Commissioner of Police, Floyd Mc Donald and Officer -in-Charge at the Alberttown Police Station, Deputy Superintendent Kenwin Hope.
(Picture by Corwin Williams)


The Police said Constable Atwell, who was just entering the Enquiries Office, "was blasted in the hail of gunfire by the four gunmen, who emerged with long guns, from the white car in front of the Station".
Atwell tried to evade them, but was caught by gunfire from the other car on Albert Street and collapsed in the Station compound, the Police said.

According to the Police, the gunmen then sped away in the two cars. Atwell seemed to have been hit by bullets at least four times with one bullet penetrating his chest. He was rushed by taxi to the Georgetown Hospital, where he was pronounced dead on arrival.
The other Policeman, who shot in the arm, was treated at the Georgetown Hospital and was subsequently discharged
(Picture by Corwin Williams)

Saturday June 01, 2002