THE bizarre deaths of four persons, including two children, have left the East Bank Demerara village of Grove in shock, and relatives of the dead wondering whether it was murder, suicide or both.


The bodies of the four persons were discovered yesterday at 102 Grove Public Road by neighbours who checked a strong stench coming from the house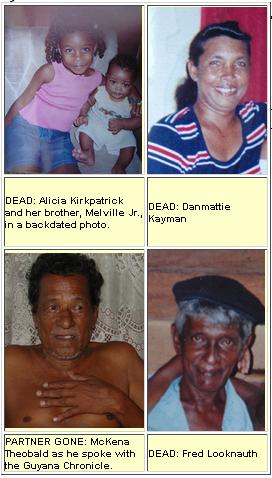 The house, property of a well-known business establishment, was being occupied by Fred Looknauth, 66, who was found dead with a shirt covering his face in the upper flat of the heavily grilled building, his daughter Elaine Ramrattan said.

The others found dead in the house were Danmattie Kayman, a mini-bus conductor who would have celebrated her 43rd birthday today, and her two children, Alicia Kirkpatrick, 7 and Melville Jnr., 3.

The woman was found dead in the upstairs bathroom with a sheet covering her. The children were found in the lower flat of the building.

Relatives of the woman said she did not have a relationship with Looknauth, but had been looking for a place to stay after she was evicted from her familyís house at Kaneville, also on the East Bank, and the man had offered to let her stay there until she had left the country, as she was planning to do.

Neighbours who ventured into the house after it began to smell foul did not report seeing marks of violence on the bodies, as they called in the Police who took over the matter.

Police said they are investigating the circumstances which led to the death of the four persons whose partly decomposed bodies were found in the house at about 10:15 h yesterday.

Elaine Ramrattan said she last saw her father Saturday evening, when he went by her house, 103 Grove Squatting Area, for dinner. She said he used to live at her place, but since he was offered to ďtake careĒ of the house, he began living there about a year ago.

She said she did not find it unusual that he didnít visit her the days following, since he would come by whenever he felt like. However, an elderly relative and neighbour who were accustomed to seeing Looknauth asked her when she last she saw her father. Then is when they decided to check the house, since a foul smell was coming from it, she said.

She said two youths from the neighbourhood ventured into the property and discovered the bodies after which the Police were called in.

The woman who was found dead along with her children was due to visit her mother on Saturday evening, but didnít do so.

Her mother, Rita Ramlagan, said she received a call from her daughter Saturday afternoon informing her that she would be spending the weekend at her East La Penitence, Georgetown home.

Ramlagan said she prepared the chowmein her daughter asked her to cook, but even though she failed to show, she did not take it to mean anything untoward had happened.

She said on Sunday morning, the father of her daughterís now dead three-year-old son visited her East La Penitence home, saying that she had asked him to pick her up with the bus. But then she informed him that she did not come to spend the night like she said she would.

Ramlagan said the man left and she received no word. On Sunday, she went to visit her other daughter in the Diamond housing scheme, and when she was leaving, at about 18:00 Sunday evening, she decided to check on Danmattie.

However, she said when she reached the house, she called and called, but no one answered. She said she heard a baby crying in the house and then a slender young lady who was going into the yard informed her that Danmattie had left to go out.

The elderly woman said she asked the young woman to inform her daughter that she was there.

On Tuesday, Ramlagan said she returned to visit her daughter but no one responded to her calls. She said she noticed that there were no curtains up, and she began to wonder whether her daughter had left for Puerto Rico without telling her.

Ramlagan said her daughter was pursing a job in Puerto Rico and had shown her the documents, promising her that she would work hard and send back money so she would not have to work any more.

A sexagenarian, Ramlagan said she looked forward to the break from her work. But at 11:30 h yesterday she got a call at her workplace that would dash her hopes. When she reached her other daughterís home in the Diamond housing scheme, she received the startling news.

She said the elderly man had offered her daughter a roof since she was evicted from her home in Kaneville which she used to occupy with her children from her first marriage. They refused to speak with the Guyana Chronicle yesterday.

Unsolved murders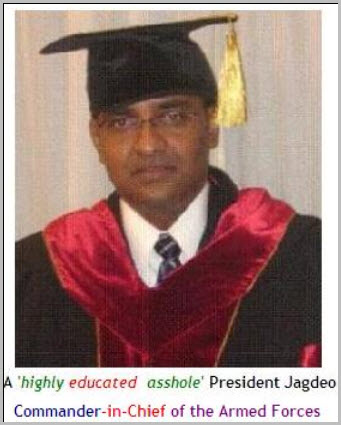 The dead manís daughter said neither she nor his other relatives knew much about the woman and she had been living there for about six months now. Elaine Ramrattan said she is his only child here. Her other siblings live overseas, as does her mother, who separated from her father years ago.

The bodies of the dead persons are at a city mortuary awaiting post mortem.

The Police have invited anyone with information which could assist in their investigations to contact them on telephone numbers 225-6411, 226-6978, 226-7065, 225-6940, 265-2233 or 911.