11 laid to rest on national day of mourning
- Lusignan massacre victims, slain soldier duly honoured
Yesterday, on a national day of mourning in their honour, 10 of the 11 victims of the Lusignan massacre, and the Guyana Defence Force Corporal who was cut down in a hail of bullets in Buxton were laid to rest.

The outpouring of grief and unbridled emotions from relatives as well as thousands of strangers were displayed at the Lusignan Market Tarmac and Lyken Funeral Home and Dartmouth on the Essequibo Coast.

As the midday sun blazed in all its glory, f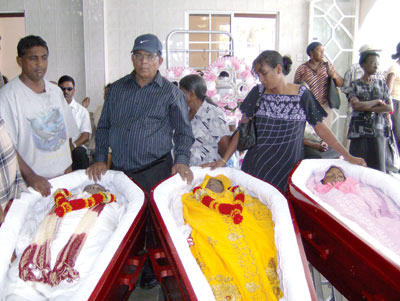 ollowed by some intermittent showers, the large gathering at Lusignan on the East Coast of Demerara did all they could to get a last glimpse of the villagers who lost their lives in a senseless carnage.

Despite being offered comforting words by the various religious leaders, many expressed that there would be no closure until the perpetrators of the heinous act are brought to justice.
Yesterday, Raywattie Ramsingh, 11, her father Rooplall Seecharran, 56, her mother Dhanrajie Ramsingh, called Sister, 52; Clarence Thomas, his son Ron, 11, daughter, Vanessa, 12; Mohandai Gourdat, 32, her two children: Seegobind Harilall, four-years-old and Seegopaul, 10; and Shalem Baksh, 52, were bid their final farewell. The eleventh victim, Shazam Mohammed, was laid to rest on Tuesday last.

It was a chaotic scene yesterday as the thousands who converged in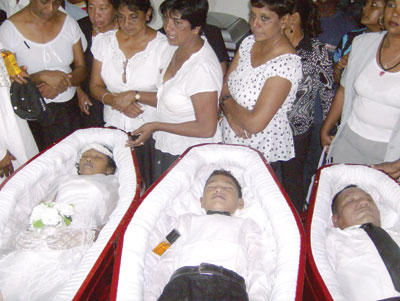 the area pushed and tugged to secure appropriate vantage points to observe proceedings. As the bodies arrived at the site, loud wailing provided an eerie reminder of the horror, which unfolded in the wee hours of Saturday morning.

Relatives who were overwhelmed were placed to sit in chairs beside their loved ones as the crowd filed past slowly. There were also several mourners who collapsed and were immediately removed from the crowded areas to be revived.

The viewing of the bodies continued for almost an hour-and-a-half with police ranks on duty being particularly hard pressed to control the large gathering of highly emotional mourners.
A call for unity among Guyanese was reiterated by all the religious leaders, who tried as best as they could to bring an element of calm to the understandably tense environment.
Prayers were offered for the relatives to gain the requisite strength to deal with their grief and to help the authorities to find a solution to the problem. The call was also made for Guyanese to not be separated by this incident, which they stressed is clearly what the persons responsible for the act would relish.

"By this incident we will not be defeated; let us use this opportunity to unite and make our society a more comfortable one for all," one religious leader urged. There was also a plea for all members of society to not forget the families of those slain following the burial of their loved ones. "Now is when your support will be needed the most, so that healing could be done."

Following the closing of the sermons, a final moment of silence was held for the victims as their remains were carried off, for burial or cremation. Several government officials and prominent Guyanese were in attendance to offer their support.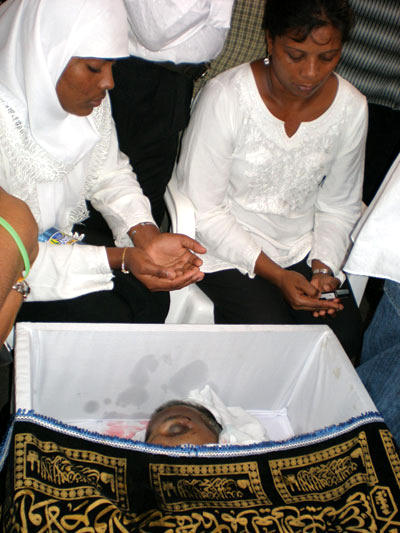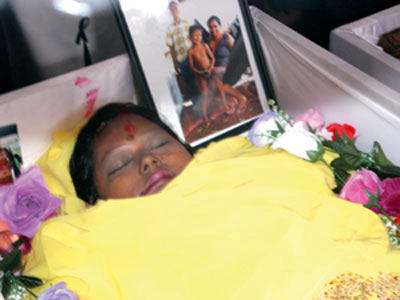 And on the Essequibo Coast, slain Army Corporal # 19759 Ivor Williams was duly afforded full military honours. Williams was shot dead last week after his patrol came under fire from gunmen while in Buxton.
He had only served five years in the Guyana Defence Force, but according to Chief of Staff, Commodore Gary Best, the life of Corporal Williams was an exemplary one, and he died as a hero.
The 23-year-old Williams was interred at the Eliza Cemetery on the Essequibo Coast.
Following a short viewing at Lyken's Funeral Home, Williams's body was flown to Hampton Court and then taken to his Dartmouth home where over 200 soldiers gave him a military send off.
Among those also present at the funeral were Head of the Presidential Secretariat, Dr. Roger Luncheon, Minister of Agriculture Robert Persaud and Regional Chairman Alli Baksh.
It was recalled during the funeral service that Williams last attended church on December 31. One month later on January 31, he was again in church.
Relatives echoed the Commodore's sentiments that the soldier loved his country and died a hero.
Luncheon, in remarks, while saluting Williams for a great service to his country, promised that Government would work tirelessly to ensure that those responsible for his demise are caught and punished.
Commodore Best reminded those present that the fight was far from over and the Guyana Defence Force will effectively fulfill its duty.
Thousands lined the Essequibo roadway to bid farewell as the soldiers trailed their fallen comrade to his final resting place.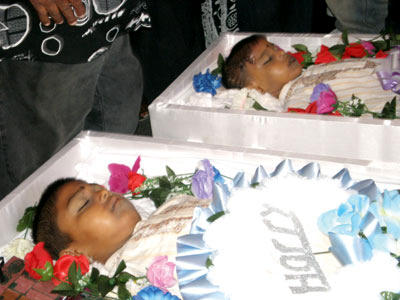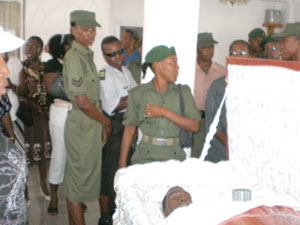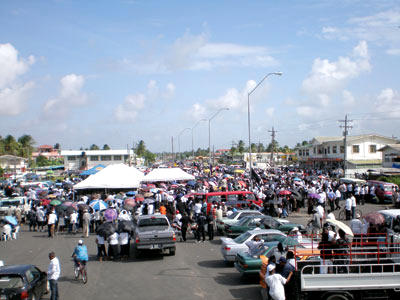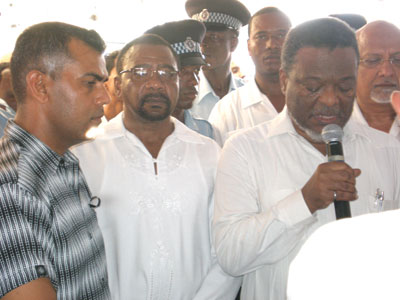 February 1st. 2008